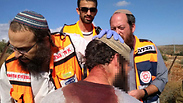 Clashes in Qusra Thursday
Qusra shooting suspect presents IDF authorization request
Father who shot Palestinian dead during bar mitzvah hike in Qusra last week produces email proving he requested authorization from IDF for trip, countering army's claim no prior authorization was sought; father received verbal, not written reply, he says; families of hike's participants, minister of defense rail against shooter being suspected of involuntary manslaughter.
The Israeli father who shot dead a Palestinian rioter in the West Bank town of Qusra hit back on Sunday against claims by the IDF that trip organizers did not coordinate it with the army, producing an email he said was sent to the IDF requesting authorization to hold a trip in the area.

The Palestinian who was shot was among a group of Palestinian rioters throwing rocks at a group of some 20 Israeli children who were on a bar mitzvah trip in the area on Thursday.

The email from the father said: "Hello, I would like to coordinate a short hike between Migdalim and Kida (two West Bank settlements). We have a rifle and a first aid kit."

The father claimed he had never received a written response but was contacted and received verbal IDF authorization.

He is now suspected of involuntary manslaughter, which incensed the hikers' families.

The families claimed the incident was extremely severe and might have ended in disaster if not for the father's swift response. "My son came back traumatized. He said they were going to die. He's still suffering from anxiety and it's shameful the army and police are treating the heroes who saved the children as criminals and distorting the picture by turning the assaulted into the assailant," said Naomi Ofen, whose son was among the hikers.

Minister of Defense Avigdor Lieberman also commented on the incident, writing on Facebook, "Using a weapon for self defense is a moral value protected by law in all democratic countries."