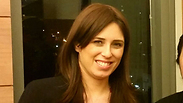 Deputy Minister of Foreign Affairs Tzipi Hotovely
Photo: Moshe Levy
Hotovely depicted as harboring Nazi views in Kibbutz weekly
Deputy Minister of Foreign Affairs Hotovely lampooned in Kibbutz Movement weekly caricature showing her alongside Nazi soldier telling American Jewish couple, 'Kikes… Draft dodgers!'; Cartoon is 'somewhere between ignorance, slander,' Hotovely retorts; weekly's editor: 'American neo-Nazi site said Hotovely's remarks mirrored its own views.'
A weekly newsletter disseminated by the Kibbutz Movement published a caricature showing Deputy Minister of Foreign Affairs Tzipi Hotovely—depicted unflatteringly—waving an Israeli flag alongside a Nazi soldier, both yelling at an American Jewish couple, "Kikes… Draft dodgers!"

The caricature, accompanied by the caption "On the way to the Reform synagogue", was published alongside an editorial by HaZman HaYarok Editor-in-Chief Yaakov Lazar, who commented on the deputy minister's recent statements on Diaspora Jewry.

Hotovely responded to the picture, saying that she was appalled by the "ignorant" insinuation.

"The caricature is somewhere between ignorance and slander and shamed the Kibbutz Movement's weekly. My comments' clear context was describing the dissimilar realities of living in Israel and the United States," she explained.

Offering his defense, Lazar said, "The caricature referenced the glowing reception Hotovely's comments received on American neo-Nazi site 'The Daily Stormer', which noted she was saying the same thing about American Jews they were. The allegation Hotovely made against American Jews, saying they weren't joining the army, has been made by neo-Nazis for a while now."