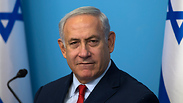 PM Netanyahu. Believes he can seek reelection even with an indictment recommendation
Photo: Amit Shabi
Netanyahu's new anti-police campaign
Op-ed: The prime minister has replaced the 'there will be nothing because there is nothing' campaign with a new, updated version: Since the police recommendations are meaningless, he will be able to remain in office even if his investigation is concluded with a recommendation to indict him on serious charges like bribery, fraud and breach of trust.
Benjamin Netanyahu is not a prime minister who tends to give up, compromise or surrender. But the man who arrogantly brags that "when I want something, I get it," raised a white flag on Sunday and waived one of the most important bills as far as he's concerned, the "Bibi bill"—or in its euphemistic name, "the recommendations bill."

This surrender was imposed on Netanyahu. Did it happen because the cries from the spontaneous protest of thousands on Tel Aviv's Rothschild Boulevard had reached the Prime Minister's Residence on Jerusalem's Balfour Street? Or was it Kulanu leader Moshe Kahlon's last-minute threat to castrate the law? Or did Justice Minister Ayelet Shaked's criticism tilt the scales? Or was it actually Knesset Member Benny Begin's echoing statement?

The answer is: All of the above. The accumulated mass of revulsion and bad taste—and it's not even a matter of opposition or coalition, of Right or Left—managed to subdue even a strong leader like Netanyahu.

The bill's ending was expected. According to a senior Likud source, Netanyahu was under immense public and political pressure, and sensibly decided—although somewhat late—to put an end the devil's dance around this delusional bill.

Even his two loyal ministers, Yariv Levin and Ze'ev Elkin, abruptly stopped a Ministerial Committee for Legislation meeting on Sunday to go down to the prime minister's bureau and inform him that "we should just let it go."

But the significant story in Netanyahu's surrender statement is not the headline but the fine print. "It is obvious to all that the police recommendations about me have no meaning anyway," he wrote on Facebook. "It appears their conclusions were determined at the beginning of the investigation, were leaked throughout, and haven't changed despite the clear facts being presented time after time—which prove there was nothing."

Make no mistake. The recommendations campaign is still on the agenda. It has simply moved from the parliamentary arena to the public and political arena. Netanyahu is well aware of what he's in for in Case 1000 which involved illicit gifts allegedly receive by the prime minister and his wife, so he has launched a new campaign indicating that the "recommendations bill" is unnecessary because the police recommendations are meaningless, which is why he can remain in office even if the police conclude his investigation with a recommendation to indict him on serious charges like bribery, fraud and breach of trust.

In other words, he can seek reelection as prime minister even with a cloud of a certain recommendation hovering over his head.

The "there will be nothing because there is nothing" campaign has been replaced with a new, updated version: "It doesn't really matter if I carry a small hump of a recommendation for an indictment on my back." This will be Netanyahu's narrative from now on. And by the way, this is the same Netanyahu who—as opposition leader—called on his predecessor, Ehud Olmert, to resign before his police investigation was even concluded.