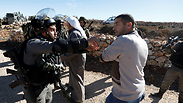 Clashes near Nablus
Photo: Reuters
Palestinian shot, seriously wounded in clashes with Jewish far-rightists
Violence breaks out after Jewish far-right Otzma Yehudit Party visits area near Qusra village to display a Jewish presence following Friday's attack on group of Jewish children by rock-throwing Palestinians during visit; IDF bars further access by activists.
A Palestinian was shot and seriously wounded Monday after clashes broke out between residents of the Palestinian village of Qusra near Nablus and far-right wing Jewish activists who visited the area, sparking riots that forced roit-dispersal personnel to move in.

In a partial recording of the violence, Palestinians can be seen standing atop a hill as a large rock is rolled down a slope in the direction of the Jewish activists.

Palestinians roll rock down slopes at Jewish right-wing activists (צילום: הלל מאיר TPS)

Matters escalated when Palestinians began hurling rocks at the security forces and burning tires.

The group, the Otzma Yehudit Party, visited the area four days after an incident in which a group of boys on a Bar Mitzvah hike were attacked by a stone-throwing mob near the village.

"I would expect the police to deal with the Palestinian rioters throwing rocks and boulders," said right-wing activists Itamar Ben Gvir. "When dozens of Palestinians throw massive rocks intended to kill, the army should be opening fire."

The incident resulted in the death of a Palestinian man, who the IDF said was said to be involved in the attack on the Jewish settlers and children. The Palestinians claimed that the man was toiling the land and shot for no reason, but the settlers maintained that they had encountered an "attempted lynch," in which he was involved.

In the latest clashes on Monday, dozens of Palestinians pelted the group with rocks, as IDF soldiers subsequently attempted to calm tensions by barring the activists from entering the area.

Members of Otzma Yehudit stated that the motive for the expedition was to display a Jewish presence at the location. They also added that they have no intention of requesting authorization from the military, but would notify them of the trip.

"We aren't afraid and we don't need permission to tour the land of Israel," said a message publicized by Otzma Yehudit. "In response to the children's lynching near Qusra, and the IDF Spokesperson's announcement that all hikes in Judea and Samaria require authorization, we will are arranging a hike tomorrow (Monday) to the cave in which the children hid."

According to a statement from the IDF Spokesperson's Unit, violence erupted after around 50 Palestinians began rioting in the area.

The settler who shot the 47-year-old Palestinian Mahmoud Za'al Odeh in Thursday's incident was questioned by police, and is suspected of causing death by negligence.

"Dozens of Palestinians threw stones and rocks at us, we were in a life-threatening situation, and we were trying to protect the children," said the man, whose son was among the group.