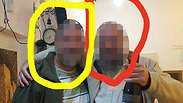 The Facebook page of the Palestinian village of Qusra posted Sunday a photo of the Israeli father who shot and killed 47-year-old Palestinian Mahmoud Za'al Odeh, a resident of the village, in last week's violent incident that took place near the village.

The photo, in which the father is marked in a red circle, is captioned: "The one in the red circle shot Mahmoud Za'al Odeh." It further noted that Samaria Regional Council head Yossi Dagan had decided to award him a medal of valor.

It didn't take long for people to start posting comments wishing him ill, with some even calling for his death.

"Allah will take the greatest revenge on him," posted one, with another writing: "His day will come soon enough."

In response to the comments, the settler's attorney Menashe Yado of the Honenu organization sent an urgent letter to the commander of the police's Judea and Samaria District, demanding him to act to have the inflammatory post removed as it was inciting in nature.

"The page was flooded with murderous reactions against the shooter, and I therefore ask you to act immediately to remove the dangerous post and to bring the posters to justice," Yado wrote.

Odeh was among a group of Palestinian rioters throwing rocks at a group of some 20 Israeli children who were on a bar mitzvah trip in the area last week.

The shooter is now suspected of negligent homicide, which incensed the hikers' families.

The families claimed the incident was extremely severe and might have ended in disaster if not for the father's swift response. "My son came back traumatized. He said they were going to die. He's still suffering from anxiety and it's shameful the army and police are treating the heroes who saved the children as criminals and distorting the picture by turning the assaulted into the assailant," said Naomi Ofen, whose son was among the hikers.

Minister of Defense Avigdor Lieberman also commented on the incident, writing on Facebook, "Using a weapon for self defense is a moral value protected by law in all democratic countries."