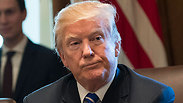 President Trump
Photo: EPA
'Trump to declare J'lem as Israel's capital, delay embassy move'
After holding multiple phone calls with Arab leaders and PM Netanyahu about decision to move US Embassy from Tel Aviv to Jerusalem, President Trump reportedly says he intends to declare US recognition of latter as Israel's capital, but put embassy move on the back burner due to logistical constraints.
US President Donald Trump will recognize Jerusalem as Israel's capital on Wednesday, but will also dash hopes in the Israeli government by signing a waiver that will keep the US Embassy in Israel in Tel Aviv, the New York Times (NYT) reported Tuesday.

The report comes two days after the president announced that he would be delaying a decision on whether to transfer the American Embassy to Jerusalem.


The report also comes on the heels of a series of phone conversations the US president held with several Arab leaders, including Palestinian Authority President Mahmoud Abbas, and with Prime Minister Benjamin Netanyahu, informing them that he had already taken the decision to fulfil his campaign pledge of moving the embassy.

News of Trump's decision gave rise to a whirlwind round of calls by Abbas to international leaders, including Russia's President Vladimir Putin and the Pope, in a bid to ratchet up the pressure on Trump to desist from making the Wednesday announcement.

According to the NYT report, however, American officials said that the wheels could not be set in motion immediately for logistical reasons.

Israel's mayor of Jerusalem Nir Barkat, however, said on Tuesday that moving the US Embassy in Israel from Tel Aviv to the holy city can take "two minutes".

Barkat said the United States would only have to convert one of its existing assets in the city, such as its consulate located in western Jerusalem.

"They just take the symbol of the consulate and switch it to the embassy symbol—two American Marines can do it in two minutes, and give the ambassador David Friedman a space to sit in," Barkat told Israel Radio.

"The implementation of this decision is immediate and then later slowly start moving the employees in a more structured manner to begin providing services in Jerusalem," Barkat said.

Jordanian King Abdullah II called Abbas to stress "his full support with his Palestinian brothers in respect to their historic rights inherent in Jerusalem and of the need to work together to face the consequences of Trump's decision and halt whatever will harm the hopes of the Palestinian people to build a state with East Jerusalem as its capital."

The Moroccan King Muhammad VI also attempted to pressure Trump into reversing his reported decision, sending a memo to the president saying that "Jerusalem needs to continue to be a place of coexistence and equality."

Egyptian President Abdel Fattah al-Sisi told Trump there was no need to "complicate" matters in the Middle East after Trump phoned him to talk about his decision to move the US Embassy in Israel to Jerusalem, a Cairo presidential statement said.

Jordan plans to convene emergency meetings of the Arab League and Organisation of Islamic Cooperation next Saturday and Sunday on how to face the "dangerous" consequences of Trump's decision, the foreign minister said.

The kingdom is holding consultations with Arab League members in its capacity as president of the Arab summit and also with Turkey which holds the chairmanship of the OIC, Jordanian Foreign Minister Ayman al Safadi said.

"These meetings will coordinate Arab and Islamic stances towards the (Trump) decision.. Jerusalem is a Palestinian, Jordanian, Islamic, and Christian issue and any attempts to decide its fate unilaterally are null and void," Safadi said.

Orly Azoulay, Elior Levy, Itamar Eichner, Roi Kais, Yoav Zitun and Moran Azulay contributed to this report.