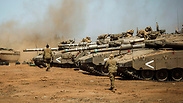 Tanks in the north
Photo: AFP
The IDFs Galilee division began a surprise military drill Tuesday in preparation for a sudden outbreak of war with Lebanon following two airstrikes against Syria which Arab media attributed to the Israel Air Force.

As part of the impromptu drill, hundreds of logistics corps soldiers were mobilized without advance notice to extract emergency reserve equipment from storage centers near the northern Israeli city of Karmiel Sunday.

Around 60 military vehicles, among them armored personnel carriers (APC), tanks and transport trucks, to the front.

The scenario also required that the forces contend with the use of weapons that were discovered to be defective, including tanks and artillery pieces, demanding that the soldiers repair and transport them some 20-30km to the mock battlefield.

"The exercise was carried out with the goal of improving our battle readiness and the readiness of our equipment," said Brigadier General Michel Yanko, commander of technology and logistics, in an interview with Ynet.

"The emergency and logistics units practiced going from routine, to emergency mode of repairing broken equipment using technology and manpower."

According to Yanko, the reserve units performed impressively and displayed determination to respond to the call of duty, with more than 75% showing up for the exercise. He added that a drill of such magnitude has not taken place in over 25 years.

The IDF decided to publicize the drill after a similar major exercise took place near the northern border in September prompted Lebanese concerns that Israel was planning to attack Lebanon.

The drill took place against a background of criticism voiced by both the IDF and non-military officials over the last two years about the readiness of the IDF's emergency logistics units.

One report highlighted serious deficiencies in the soldiers' readiness which was ascribed to the retirement of large numbers of military staff.

According to the officer who authored the report, IDF Chief of Staff Gadi Eisenkot initiated a new operational structure which aims to dramatically improve efficiency in the maintenance processes and the availability of weapons to the fighting units. To that end, a national logistics center was set up to reduce the time it takes to fix damaged equipment.