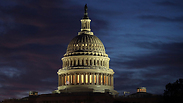 US House of Congress
Photo: AFP
House passes legislation to restrict US aid to Palestinians
Taylor Force Act, named after US West Point graduate who was murdered by a Palestinian terrorist in 2016, receives overwhelming support in Republican-led House, as lawmakers slam the 'downright disgusting ... pay to slay' scheme by the PA which they say 'incentivizes terrorism.'
The Republican-led House easily approved legislation Tuesday that would restrict financial aid that directly benefits the Palestinian Authority until it takes credible steps to end what lawmakers say is a practice of rewarding Palestinians who kill Americans and Israelis.

The legislation, which passed by voice vote, reflects bipartisan outrage over what members of Congress have called a "pay to slay" program endorsed by the Palestinian Authority.

Rep. Ed Royce, R-Calif., the House Foreign Affairs Committee chairman, said the program "incentivizes terrorism."

"This perverse pay-to-slay system uses a sliding scale: the longer the jail sentence, the greater the reward," Royce said. "The highest payments go to those serving life sentences—to those who prove most brutal."

The committee's top Democrat, Rep. Eliot Engel of New York, said the so-called martyr payments are "downright disgusting" and undermine the potential for a two-state solution to the Israeli-Palestinian conflict.

Palestinian officials have said US lawmakers are misinformed about a program that supports families who lose their breadwinners.

The bill is named for Taylor Force, an MBA student at Vanderbilt University in Tennessee and a West Point graduate who was visiting Israel in March 2016 when he was stabbed to death by a Palestinian terrorist. Force was from Lubbock, Texas, and served in Iraq and Afghanistan. His parents, who were in Washington on Tuesday, live in South Carolina.

"He was a young man with big dreams and loads of potential," Royce said.

The US government financially supports the Palestinians in a variety of ways, including paying certain debts held by the Palestinian Authority and underwriting programs for which the Palestinian Authority would otherwise be responsible, according to the House legislation.

The bill states US money may only be made available if the State Department certifies the Palestinians are serious about ending "acts of violence against Israeli citizens and United States citizens that are perpetrated or materially assisted by individuals under their jurisdictional control."

The Palestinian Authority is also required to revoke any laws or regulations authorizing the payments to terrorists or their families and must publicly condemn the acts of violence, according to the bill.

The Senate Foreign Relations Committee passed a separate version of the Taylor Force bill in early August.