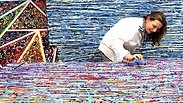 Iris Eshet Cohen
Photo: PR
Iris Eshet Cohen is an Israeli artist based in Tel Aviv specializing in abstract paintings, bronze sculptures, and ceramics. Iris' art has been compared to Kandinsky and Pollock.

Rami Rotkopf, the owner of Smart Publishing and owner of Blue Gallery in Florida calls her "one of the best abstract artists I have met." Rami says that "I like the texture and the whole combination of colors. It looks simple, but it's not easy. She is one of the few artists that knows how to put color to color and create harmony and balance. And what I have found is that people like it and buy it. It is something neutral yet brings a certain energy to the space where they hang her paintings."



Iris says her inspiration comes from all over nature. "It's the sun, the beach, the sand, the sky, the boats, and the water," she says.

Iris prefers to work during the daylight in her studio in her backyard. Rather than paint brushes, Iris uses hundreds of tubes of paint in a variety of sizes to layer the paint on the canvas. Each layer needs to dry before adding the next and a single painting can take 2-3 months to finish.

She describes her technique as being characterized by free dynamic movement that seeks to express the optimistic flow of life.

"I layer the lines in my paintings to reflect periods in my life. From childhood to teenage years, to adulthood. You can see one layer after another and you can imagine my life."

Iris also said she had "a small personal confession" about the source of her outlook.

"I had a very traumatic experience in my youth, a 'silent birth.' I lost my baby at his birth. It took time to recover, but when I did, I realized how much I was affected by the glorious colors of nature around me—their light, their shadows, and their beauty. At that moment I knew how vital it is to express myself through them."

Iris' work is shown all over the world in galleries in New York City, Paris,London, Madrid and Russia. Her art embodies the natural beauty and vibrant colors of her homeland. In a country so fraught with war, she represents the light and optimism of Israel and its people.

Her work will be on display with the exhibition "Colors of Life" at Blue Gallery in Delray Beach, Florida from the 16th to the 23rd of December.