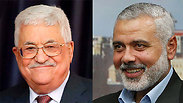 Abbas and Haniyeh
Photo: Reuters, AFP
Abbas and Haniyeh close ranks on Trump declaration
Hamas leader tells Al Jazeera he and Abbas agreed during phone conversation on need to stage protests over Trump's expected declaration on Jerusalem; 'Jerusalem will be the capital of the State of Palestine. We will deal with this through any means.'
Hamas leader Ismail Haniyeh and Palestinian Authority President Mahmoud Abbas agreed Wednesday that Palestinians had to stage a protest against an expected announcement the same evening by President Donald Trump stating that the US recognizes Jerusalem as Israel's capital.

"The decision that has been taken is aggression against Palestinians, Muslims and every free man in the world," Haniyeh told the Al Jazeera news channel after a telephone conversation with Abbas.

"We are warning against the decision. No one can predict the things that will develop as a result of it, not only with the Palestinians but also in the entire region. There won't be a State of Israel on Palestinian soil. Jerusalem will be the capital of the State of Palestine," Haniyeh said on the Qatari station.

"This decision constitutes an official end to the negotiations. Jerusalem is Palestinian, Arab and Islamic," he continued. "This decision won't alter the reality in Jerusalem and its history. The Palestinian people will not surrender to this decision and they will oppose it," he vowed.

He also threatened to "deal with it through any means," before turning to the Arab states, calling on them to unite around the issue.

"I turn to also to the Arab countries who are dealing with their own internal affairs. Forget your disagreements," Haniyeh said.

"Our Palestinian people," he added, "will have a suitable response. As a people, we cannot accept this American pattern."

In Beirut, a few hundred Palestinian refugees staged a protest in the narrow streets of the Bourj al-Barajneh camp, some of them chanting "Trump, you are mad."

Earlier, Iranian president, Hassan Rouhani also joined the chorus of disapproval by Arab states over Trump's expected move, promising that "Iran will not tolerate the violations being carried out by Trump on Jerusalem."

But the criticism was not only restricted to the Middle East. In Europe too, disagreements were voiced over the expected declaration.

"The American president is undermining international stability," said the leader of the German Social Democratic Party, Martin Schulz, who is currently engaged in negotiations to enter Chancellor Angela Merkel's coalition government.

"We must support the two-state solution and warn about the deterioration of the situation in the region and the destruction of the peace process."

In the midst of developments surrounding the Jerusalem issue, Prime Minister Benjamin Netanyahu published a video on his Facebook page in which he said, "I'm about to call a Cabinet meeting to promote the Basic Law: Israel as the Nation-State of the Jewish People, an important law for Israel. Our national historical identity is expressed in many important ways, but especially on this day (of Trump's speech on Jerusalem—ed)."

In light of mounting tensions surrounding the US president's expected announcement, Minister of Public Security Gilad Erdan said he was not aware of any intelligence pointing to the eruption of a renewed wave of violence following Trump's speech.