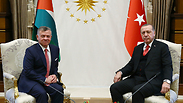 Abdullah and Erdogan meet in Ankara
Photo: AP
Jordan's King Abdullah warned Wednesday that "denying Islamic and Christian rights in Jerusalem will increase violence," speaking mere hours before US President Donald Trump is expected to break away from the decades-long American policy and recognize Jerusalem as the capital of Israel.

Following a meeting with Turkish President Recep Tayyip Erdogan in Ankara, the Jordanian king said the Palestinians have a right to establish a state with east Jerusalem as its capital.

He further stressed the solution for the dispute over Jerusalem must be reached through negotiations between the two sides, adding there was no alternative to the two-state solution.

"We will honor all of our commitments on protecting the sacred places to Islam and Christianity in east Jerusalem," Abdullah said.

Erdogan, who threatened to cut diplomatic ties with Israel over the expected announcement, concurred with the Jordanian king, adding that the recognition of Jerusalem as the capital of Israel by Washington "would play into the hands of terrorist groups."

"No one has the right to play with the fate of billions of people over personal ambitions," he added.

Despite warnings from Western and Arab allies, Trump will direct the State Department in an 8pm (Israel time) White House speech to begin looking for a site for an embassy in Jerusalem as part of what is expected to be a years-long process of relocating diplomatic operations from Tel Aviv.

"The declaration will not change the status quo in the Temple Mount," a White House statement said. "Palestinians still have a path to peace. The president told Palestinian President (Mahmoud) Abbas he was committed to assisting in reaching a peace agreement, and believes such an agreement is attainable."

The president hoped, the statement continued, to reach an agreement based on the two-state solution if both parties were willing to back it, noting Trump had spoken to regional heads of state and updated them on developments.

Reports Israel received showed the two most vociferous American officials pushing Trump to recognize Jerusalem as the capital were US Ambassador to Israel David Friedman and Trump's son-in-law Jared Kushner. The president's special Envoy to the Middle East Jason Greenblatt, meanwhile, cautioned of the repercussions such a move will have on the peace process.