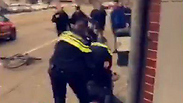 Police arresting the perpetrator
Photo: Dror Gorni
A man with a Palestinian flag yelling "God is great" was detained by police in the Netherlands on Thursday after smashing the windows of a kosher Jewish restaurant in Amsterdam.
The violent outburst came a day after US President Donald Trump recognised Jerusalem as the capital of Israel, a decision that reversed decades of US foreign policy, angered much of the Muslim world and was widely rejected by Western leaders.
באדיבות דרור גורני
The assailant, who was wearing a black-and-white-checkered head scarf, smashed several windows of the restaurant HaCarmel before he was pushed to the ground and hand-cuffed by police, a video of the incident posted on local media websites showed.
"We are disgusted," the Organization of Jewish Communities in The Netherlands said in a statement. The attack was "an act of revenge, meant to instil fear, and is no less than an act of terror."
The restaurant proprietor, Sami Baron, told Ynet "I am lucky that I was not present at the time, and that the flag has been replaced."