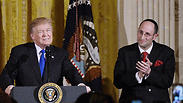 President Trump at Hanukkah party
Photo: MCT
President Donald Trump on Thursday celebrated an "especially special" Hanukkah at the White House, announcing he is "proud to stand with the people of Israel and to renew our enduring bond" a day after declaring Jerusalem Israel's capital and setting off criticism and clashes.

"Right now I'm thinking about what's going on and the love that's all over Israel and all about Jerusalem," Trump said in the White House East Room to a rapturous applause. The president was flanked by his daughter Ivanka, who converted to Judaism when she married her husband, Jared Kushner, and their three children.

President Trump at the White House Hanukkah party

"The miracle of Hanukkah is the miracle of Israel. The descendents of Abraham, Isaac and Jacob have endured unthinkable persecution and oppression but no force has ever crushed your spirit and now evil has ever extinguished your faith," Trump said. It was for this reason, he continued, that the Jewish people "shine as a light to all nations."

Trump also praised the Jewish communities across the US, emphasizing that the Jewish festival of lights was an opportunity to celebrate the past, while looking to a bright the future.

"On behalf of all Americans I also want to say how grateful I am for Jewish congregations throughout our country. You cherish your families, support your communities and uplift our beloved country," Trump said.

"Hanukkah is a time for Jewish families around the world to celebrate the miracles of the past and promises of the future. We are proud to stand with the people of Israel and to renew our enduring bond."

President Trump's declaration on Jerusalem was welcomed by the Israeli government, with Prime Minister Benjamin Netanyahu stating afterwards that it was of equal historic magnitude to watershed moments in Israel's history, including the 1917 Balfour Declaration, Israel's founding and unification of Jerusalem in 1967.

Despite a flood of criticism and concern that flowed in from Middle Eastern and world leaders after Trump's declaration, inside the White House Thursday, the president received a warm reception, with his comments interspersed with cheers and thanks from the crowd, which included Vice President Mike Pence, Treasury Secretary Steven Mnuchin, Holocaust survivor Louise Lawrence-Israels and Orthodox Rabbi Meir Soloveichik.




Israels spoke of standing up to hate, and Soloveichik recited a traditional prayer that he said has additional meaning this year.

"For the first time since the founding of the state of Israel, an American president has courageously declared what we have always proclaimed, which is that Jerusalem is the capital of Israel," Soloveichik said.

Struggling to pronounce Soloveichik's name, Trump quipped: "He's so happy with yesterday, that he doesn't care if I get it exact."

He also remarked of the holiday, "I think this one will go down as especially special."