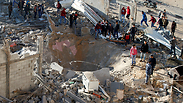 Destruction in Gaza following retaliation
Photo: Reuters
The IDF attacked Hamas targets in the Gaza Strip early Saturday morning in retaliation for Friday's rocket attacks on Sderot and surrounding communities.

The IDF Spokesperson's Unit said that IAF planes bombed two weapons production sites, a military compound and an ammunition depot.

Hamas said two of its gunmen were killed in the bombings. Their bodies were pulled from the rubble hours later.




This is the second attack in the Gaza Strip in the past 24 hours.

"The IDF views the shooting at Israeli communities with great severity," an IDF spokeperson said in a statement, adding that the IDF holds Hamas "solely responsible for what is happening in the Gaza Strip."

Hamas' military wing, the Izz al-Din al-Qassam Brigades, announced that the two men killed in the attack were its members.

"Shahid Muhammad al-Safadi, 29, from the al-Daraj neighborhood, and Shahid Mahmud al-Attal, 28, from Sheikh Radwan, both died as martyrs early in the morning following a Zionist bombing that hit a position of the al-Qassam Brigades," a statement from the Brigades said.

Hamas spokesman Hazem Qassim said that "Israel bears full responsibility for the consequences of the escalation in the Gaza Strip.

"The spark of the intifada was ignited yesterday, and it will continue until it achieves its goals."

Earlier this morning, both Hamas and Palestinian Islamic Jihad called on the Palestinian public to confront Israeli security forces.

According to Palestinian reports, rioting takes place in at least three locations in the southern Gaza Strip—east of Khan Yunis, east of Gaza City and in Beit Hanoun.

The Palestinians also reported that the IDF responded by firing at those who gathered near the fence in Khan Yunis.

Additionally, according to reports, rioters clashed with IDF forces this morning in the West Bank at the northern entrance to Bethlehem, near Rachel's Tomb.



After one rocket launched from the Gaza Strip at Sderot Friday evening was intercepted by the Iron Dome system, a second rocket landed between two cars in the southern city. No people were hurt but nearby cars were damaged.

Shortly before the successful launch, Israel Air Force fighter jets bombed a Hamas training compound and weapons cache in northern Gaza Strip in retaliation to the two first rockets fired at the communities around the Gaza Strip. Palestinians report 25 people were wounded in the attacks.

The Iron Dome system was successful in intercepting a rocket launched at Sderot earlier Friday, with the IDF Spokesperson's Unit saying there were no physical or material damage caused. A short while later a second alarm sounded in northern Negev communities, but the rocket seems to have fallen within the strip itself. The third alarm sounded in Sderot and Sha'ar HaNegev Regional Council, and a landing was confirmed in Sderot shortly thereafter.

Several communities on the Gaza perimeter decided—of their own volition but with IDF coordination—to instruct residents to remain near shelters due to the day's events.