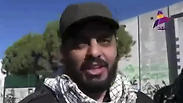 Iran-backed Iraqi militant commander visits Lebanon-Israel border
During tour of border with Hezbollah members, Qais al-Khazali, who was banned from Lebanon, says his group Asaib Ahl al-Haq is ready 'to stand with the Lebanese people and the Palestinian cause against the unjust Israeli occupation that is hostile to Islam, Arabs and humanity.'
BEIRUT - A powerful Iran-backed Iraqi militant commander has visited the Lebanon-Israel border expressing support for the Lebanese and Palestinians against the Jewish state and sparking harsh criticism from Lebanon's prime minister who ordered him banned from entering the country.

Qais al-Khazali is commander of the Iranian-backed Asaib Ahl al-Haq, or League of the Righteous, a group that staged massive attacks against US troops before their withdrawal from Iraq in 2011. He appeared in military uniform in a video while touring the border with Israel along with members of Lebanon's militant Hezbollah group.

"We declare our full readiness to stand with the Lebanese people and the Palestinian cause against the unjust Israeli occupation that is hostile to Islam, Arabs and humanity," he said.




The visit could be seen as a message to Israel that a possible war with Hezbollah in the future would bring into the country Iran-backed fighters from around the region at a time when Iranian-backed groups have a major presence in Syria and Iraq.

The visit was blasted by Prime Minister Saad Hariri who said in a statement that it is a "flagrant violation" of Lebanese laws, adding that the appearance happened six days ago. Hariri ordered al-Khazali banned from entering Lebanon again.

Hariri's office said the prime minister contacted security officials to investigate the incident and prevent any person or group from carrying out any military activities on Lebanese territory.

The video was aired by Asaib Ahl al-Haq al-Ahd TV station Thursday night showing al-Khazali along with several other people in military uniforms as they showed him around areas overlooking Israeli towns and villages. One of those guiding al-Khazali points to a mountainous region in a distance and tells him "this is Golan" in reference to Syria's Golan Heights that were captured by Israel during the 1967 Six-Days War.

Al-Khazali is later seen standing next to a wall on the border near the Fatima Gate in the Lebanese border village of Kfar Kila.

Al-Khazali's Asaib Ahl al-Haq and Hezbollah are among the Iran-backed groups that are fighting in Syria along with President Bashar Assad's forces helping in tipping the balance of power in his favor in Syria's conflict now in its seventh year.

Jawad al-Tlebawy, a spokesman for Asaib Ahl al-Haq in Baghdad, told The Associated Press that the trip to the Lebanon-Israel border occurred after this week's decision by US President Donald Trump to recognize Jerusalem as Israel's capital.

Hariri's office said it happened few days before Trump's decision that has triggered widespread protests throughout the Arab and Muslim world.