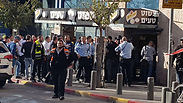 Scene of attack
Photo: Yishai Porat
A 46-year-old security guard was stabbed in his upper body and seriously wounded by a terrorist Sunday afternoon on Jerusalem's Jaffa Street, outside the city's central bus station.

A Magen David Adom emergency crew attended to the man and evacuated him by ambulance to the Shaare Zedek Medical Center. After undergoing surgery, he was moved to the Intensive Care Unit for further treatment.Two other women were evacuated to the hospital after suffering shock.

Stabbing attack as caught on security camera

Police said the terrorist arrived at the central bus station's main entrance, pulled out a knife, stabbed a security guard, who was later identified as Asher Elmaliach, and fled the scene. A local citizen who spotted him running along Jaffa Street chased him together with a police officer standing nearby, and after catching him were able to subdue him.

The terrorist was later identified as Yassin Abu al-Qaraa, a 24-year-old resident of Nablus. He was arrested and taken in for questioning by the Shin Bet at the police's central unit.

Terrorist neutralized (Video: Shani Hanania) (צילום: שני חנניה)

An initial investigation revealed he had acted as a "lone wolf" terrorist. He has a work permit in the Seam Line area, but not inside Israel and doesn't have a residency permit.

On Saturday, at 10:56 pm, the terrorist wrote on Facebook: "For Allah, we must boost Jerusalem's status, restore religion's glory and sanctify al-Aqsa, and the blood will flow from us."

Dr. Ofer Merin, executive director of Shaare Zedek's Trauma Unit said the wounded security guard had arrived at the hospital in very serious condition and was immediately operated on. "Unfortunately, the knife hit his heart," he added. "His condition has stabilized, but we can't say his life isn't in danger at this time."

Senior MDA paramedic Hananel Albo said there had been a great commotion outside the central bus station when he arrived there. "A man in his 30s was lying near the entrance, barely conscious and suffering from a stabbing wound in the upper part of his body.

"The crews dispatched to the area are attending to a number of people who witnessed the incident and suffered anxiety attacks," the paramedic added.

Yochai Swisa, who witnessed the attack, said: "It took me a few seconds to realize I was at the scene of a terror attack. That vile person's deep insanity made me realize it was a terror attack. There was hysteria, and several minutes later he was shoved by the angry crowd, which hit and attacked him ceaselessly."