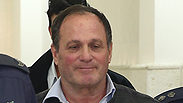 Thomas Joseph Gross
Photo: Ohad Zwigenberg
The police arrested on Sunday Herzliya resident Thomas Joseph Gross, 63, who is accused of murdering his mother, Ina Gross, in Florida in 2012, the State Attorney's Office said. The United States has filed a request for his extradition.
Gross, who was visiting his mother, allegedly drugged her and stabbed her to death in her car outside her Lakewood Ranch home on January 8, 2012, the night before his planned return to Israel.
The next morning he called 911, saying he had found her body, and tried to portray the scene as a suicide or robbery gone wrong.
The extradition process commenced after Justice Minister Ayelet Shaked instructed the State Attorney to bring Gross before the district court to declare him fit for deportation to the US.
Yarkon District Police worked together with Interpol to arrest Gross, a father of three, whose remand was extended by eight days on Monday.
Gross's sister, Ellen Gerth, is convinced he killed his mother in order to hide the money he received from the aged widow.
"It's incredibly saddening to me that the person who brutally took my mother's life is able to wake up every morning to the sunrise and go to bed every night to the setting sun. He doesn't deserve to be breathing air outside of a prison," she told the Herald Tribune in January.
Regarding the judicial process and the extradition request, Gerth said: "Many people have thought nothing is going to happen, that Tom will not be served justice. The process is long. It has been challenging. It is hugely detailed. There are many players involved — local, state, federal, international — but that's how the process works. I am convinced, given the body of evidence, that Tom will receive his punishment for what he's done to my beautiful mom."
Gerth, who described her mother as her best friend, urged her brother to end the ongoing family agony. "My advice to him would be for him to acknowledge that his charade is over and that he will be preventing his family from enduring further humiliation if he were to simply turn himself in with the understanding that he knows precisely what he did to our mother," she told the Tribune.
According to the Daily Mail, a forensics investigation of Gross's vehicle revealed remnants of his mother's vomit induced by the intake of strong sleeping pills.
The attorney for Thomas Gross, Eyal Besserglick, told Ynet: "After an investigation, my client was released without restrictions by the US authorities. His passport was returned, and he was told he is not a suspect. He traveled to the United States for an event for his father, and (Thomas Gross) was the one who tried to resuscitate his mother. He was the one who called the police, and he underwent a polygraph that confirmed his version of the events.
"Even though he has an attorney in the United States, he was never told he was wanted for investigation. The center of his life, his wife and kids, is in Israel. We will fight his unjustified extradition," said Besserglick , who claimed that Gross's sister is trying to sue him for inheritance money. "He never fled."
The Associated Press contributed to this report.