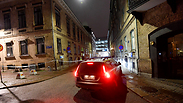 The scene of the incident
Photo: AP
Swedish police on Monday said they are probing an attempted arson against a Jewish chapel after a similar attack against a synagogue, which came in the wake of the US recognition of Jerusalem as Israel's capital.

Two burning objects had been thrown at chapel, located at a Jewish cemetery, in Sweden's third largest city of Malmo, the Jewish assembly said in a statement on Monday.


Malmo police spokesman Lars Forstell told AFP that the incident is being investigated "as an attempted arson" and that the motive is unclear.

No serious damage has been done to the building and no one was hurt.

But the Jewish assembly in Malmo said it sees the incident as "extremely serious".

"We strongly emphasize that we can never accept being subjected to threats and attacks," it said in the statement.

Swedish police have tightened security near Jewish sites across the nation following a fire attack on a synagogue in the second largest city of Gothenburg on late Saturday.

The synagogue did not catch fire and no one was hurt. Police have detained three men on suspicion of attempted arson.

US President Donald Trump's decision to recognize Jerusalem as Israel's capital drew international condemnations and sparked angry protests in the Middle East.

Around 200 protesters gathered in Malmo on Friday, threatening and calling on violence against Jews, according to the Swedish daily Sydsvenskan.