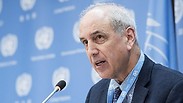 December 10 marks International Human Rights Day—a date that honors the adoption of the Universal Declaration of Human Rights in 1948—and as such, recognizes the universal value of human rights.

The Declaration clearly defines what is meant by "universal human rights," explaining that "everyone is entitled to all the rights and freedoms…without distinction of any kind." Accordingly, it should not matter what your gender is, what color skin you have, what religion (if any) you believe in, or what country you are from—your human rights are to be protected.

Fifty years later, in 1998, the United Nations (UN) adopted a definition of the individuals meant to uphold and protect the values of the Declaration. These "human rights defenders," according to the UN Office of the High Commissioner for Human Rights, must "accept the universality of human rights." The definition further states that a "person cannot deny some human rights and yet claim to be a human rights defender because he or she is an advocate for others." They must also completely reject violence and only partake in peaceful actions.

Unfortunately, those prestigiously honored as human rights defenders by the international community have made a mockery of these universal values of human rights.

For example, the World Health Organization (WHO), the UN's health body, in October appointed Zimbabwe's outgoing dictator Robert Mugabe as a "Goodwill Ambassador." Mugabe's apparent defense of human rights, including the universal right to health, comprises of leading an extremely violent regime, completely destroying Zimbabwe's economy, and manipulating elections to maintain his dictatorial role. The ICC has even been urged to investigate Mugabe for crimes against humanity.

Another instance is Aung San Suu Kyi—the leader of Myanmar. Despite winning the Nobel Peace Prize in 1991 and being affirmed by Hilary Clinton as having a role in giving the world "new hope" in the ability for countries to transition from dictatorship to democracy, Suu Kyi is currently the leader of a country committing human rights violations against the Rohingya population. She has also lied to the world about her regimes culpability in a humanitarian disaster that many are calling genocide.

Likewise, the UN's "expert" on Israel Special Rapporteur Michael Lynk, who is also a Western University professor, proclaimed that Manal Tamimi, an individual who uses virulently antisemitic and violent rhetoric on her Twitter, is a "human rights defender." It is difficult to understand how someone who posts tweets that call for violent uprisings and include cartoons that depict Jews as rats promote the UN's universal values.

Finally, is Glamour Magazine's inclusion of the "Women's March Organizers" in its 2017 list of "Women of the Year." However, one of the organizers, Linda Sarsour, overtly promotes particularistic human rights—for instance, arguing that feminism and Zionism are mutually exclusive. Sarsour, in direct opposition to broad international support of a two-state framework for peace between Israelis and Palestinians, supports a "one-state solution"—which would effectively lead to the demise of Israel and a denial of Jewish rights to sovereign equality. She is also an advocate for discriminatory BDS (boycott, divestment, and sanctions) campaigns against Israel. The organizers of the Women's March further damaged their credibility by publically supporting Rasmea Odeh—a convicted terrorist, responsible for the 1969 bombing of a supermarket in Israel that killed two students.

So where are these "champions of human rights" now?

After widespread outcry, Mugabe was stripped of his prestigious title of "Goodwill Ambassador." Following a complaint submitted by NGO Monitor, the Office of the High Commissioner for Human Rights too removed the listing of Manal Tamimi from its report. Rasmea Odeh was forced to leave America due her lying on her US visa application where she failed to disclose her previous terrorist conviction in Israel. And public condemnations of both Suu Kyi and Sarsour are countless.

The sad thing is that the true defenders of universal human rights are neglected, and instead antisemites, terrorists, and perpetrators of mass human rights violations are celebrated.

The UN and the international community must do better in their initial selection of human rights defenders and other champions of human rights to ensure that only those who promote universal human rights are celebrated. Terrorists, war criminals, and racists must instead be shamed.

Becca Wertman is deputy editor of NGO Monitor in Jerusalem and a Vancouver native.