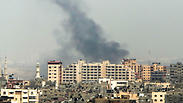 Gaza following IDF bombing
Photo: AFP
A rocket fired from Gaza into Israel Friday hit a residential building in Beit Hanoun in the strip and caused it considerable damage, according to the Arabic-language Facebook page of the Coordinator of Government Activities in the Territories.

"Once again, the terrorist organizations launch rockets at the residents of Gaza themselves," the post said.


This is the second time in a week that a rocket fired by Palestinians hits a building in the northeast Gaza city. In the previous incident, a public school classroom was completely demolished.

"Only a week ago, a classroom was destroyed in a public school in Beit Hanoun, and this evening, in another unfortunate incident, the house of an Egyptian family from Beit Hanoun was badly damaged by a rocket fired by terrorist operatives from Gaza," the post added.

The rocket fire followed a day of violent clashes between Palestinian protesters and Israeli security forces along the Gaza Strip border and in the West Bank over US President Donald Trump's recognition of Jerusalem as Israel's capital.

According to Palestinian medical sources, two Palestinian protesters and were shot dead by IDF forces in two clashes in Gaza, and two more were killed in the West Bank. One of the protesters killed in the West Bank was a wearing a fake bomb belt and was shot by security forces after stabbing and moderately wounding an IDF trooper.

The IDF reported that some 3,500 Palestinians were rioting in nine different locations across the Gaza Strip and another 2,500 were rioting at various locations in the West Bank, burning tires and throwing Molotov cocktails and stones at IDF and Border Police forces.