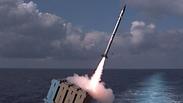 Archive
Photo: IDF Spokesperson's Unit
IAF attacks 3 Hamas targets in Gaza after rocket fire to Sderot, Eshkol
Southern residents run for cover again this week after three consecutive Code Red Alert sirens sounded in Sderot and Negev Regional Council; IDF says two rockets shot down by Iron Dome, a third lands in open space in Eshkol Regional Council; another rocket causes damage to public school in Beit Hanoun.
The IAF attacked three Hamas targets in the Gaza Strip early Thursday in response to four rockets that were fired at Israel hours before.
The targets attacked include Hamas training sites and arms depots.
According to a Palestinian security official, the targets—including a naval facility and a military base near Shati refugee camp in the northern Gaza Strip—have been the subject of more than ten strikes.
Iron Dome shoots down rocket from Gaza
These sites suffered significant damage while nearby homes suffered minor damage, according to the source, which also reports light injuries.
Three consecutive Code Red Alerts were sounded Wednesday evening in the southern city of Sderot and the Negev Regional Council near the Gaza Strip, before the Iron Dome missile defense shot down two rockets, and another exploded in open area in the Eshkol Regional Council.
It later emerged that another rocket launched from Gaza landed in an public school in Beit Hanoun inside the strip, causing damage to one of the classrooms.
It is the third day straight that quiet has been interrupted in Israeli towns and cities bordering the Palestinian enclave as a total of 16 rockets have been fired from Gaza since US President Donald Trump's recognition of Jerusalem as Israel's capital.
The IDF said in a statement that "due to the security events and in accordance with security assessments" Kerem Shalom crossing - the main passage point for goods entering the Gaza Strip, and the Erez pedestrian crossing - would be shut as of Thursday. It did not say how long the closure would last.
Three people were lightly hurt in Sderot on Wednesday evening while running for shelter and another two were treated for shock.
Sderot's mayor urged the IDF to step up its response to the rocket attacks, imploring it it "to mercilessly hit the terror organizations."
Yesh Atid MK Haim Jelin, the former head of the Eshkol Regional Council, wrote on Twitter: "Another day of Code Red. The border area has already gotten into an emergency situation routine, and the IDF must not hold back. Hamas must be hit hard, so they understand we won't stand idly by while rockets are being fired at Gaza border communities."
The Coordinator of Government Activities in the Territories (COGAT) Maj. Gen. Yoav Mordechai, posted a message in Arabic on Facebook, telling the Palestinians in Gaza: "It is important you know the rocket hit a public school in Beit Hanoun and destroyed a classroom there. Gaza terror groups are unequivocally proving what we've been repeatedly saying: They're destroying the future of their children with their own hands. Just think what would've happened had the rocket been launched during the day, when the class would have been full with your children."
The attack comes less than 24 hours after the Israel Air Force attacked a Hamas military complex in the southern Gaza Strip overnight Tuesday in response to rocket fire at the Hof Ashkelon Regional Council.
The Code Red rocket alert siren was sounded at 10:47pm Tuesday in Yad Mordechai and Netiv HaAsara, located near the Gaza Strip's southern border.
Shortly after that, a rocket was found after it had fallen in an open area in Netiv HaAsara. A second rocket was found in an open area outside a community in the Hof Ashkelon Regional Council. Police bomb squad carried out a controlled explosion of the rocket. No one was hurt and no damage was reported.
Late Monday night, the Iron Dome intercepted a rocket fired at Ashkelon. Earlier in the day, a rocket fell in an open area in the Eshkol Regional Council.
On Friday night, three rockets were fired at Sderot, with the Iron Dome missile defense system intercepting one, while another fell in a street, causing damage to several vehicles. A day later, the remains of a third rocket were found in a kindergarten, which caused damage to the structure.
AFP contributed to this report.