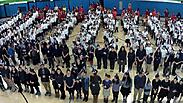 Students of the Ben Porat Yosef school in Paramus, New Jersey gathered Wednesday in order to create the largest human menorah for the Guinness World Records.

Almost 20 meters wide and 14 meters long, the record-setting menorah required 579 students and school-staff to complete.

The event was attended by members of Congress and an official representative for the Guinness World Records. All that remains is to submit the paperwork.

School principal Dr. Chagit Hadar expressed excitement at the sight of the students positioning themselves for the record setting menorah formation "in order to advertise the Hanukkah miracle around the whole world," she told Ynet.

Hadar praised the extraordinary cooperation of the students and teachers, "everybody was so excited," she added.

BBC, US channel 2 and channel 11 were among some of the major media outlets that came to report on the giant menorah formation. The school's rabbi, Saul Zucker, spoke of the great privilege of being able to enter the world records through "advertising the (Hanukkah) miracle which was a momentous spiritual struggle."