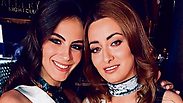 Idan (R) with Gandelsman
Photo: Reuters
The family of Iraqi beauty queen Sarah Abdali Idan has reportedly been forced to flee the country in the face of death threats after the young model posed for a selfie with her Israeli counterpart, Adar Gandelsman.

Idan, 27, and Gandelsman, 20, took the picture together at a beauty pageant in Las Vegas in November. "Peace and Love from Miss Iraq and Miss Israel," Idan wrote.

"When Adar offered to take a picture together, I said 'sure, why not?' I want to spread the chance of peace and love," said Idan.

The selfie was widely shared in Iraq and throughout the Arab world, where anti-Israel feelings run high.

Last weekend, Idan's family revealed that they received threats on their lives and were forced to flee Baghdad and join their daughter in the United States. "We are leaving Iraq until things calm down," they explained.

Ms. Gandelsman said she had stayed in touch with Ms. Idan and learned that the young Iraqi and her family had fled their country in the face of the backlash, as well as criticism over a picture of her in a bikini.

Ms. Idan had earlier tried to defend herself in the face of Arab anger over the photograph. "Posting this does not mean that I am supporting the Israeli government and does not mean that I accept any of their policies toward the Arab world," she said in a bid to repel some of the criticism.

"I apologize to anyone who saw it as harming the Palestinian cause, this was not the purpose of the post. It's ... a call for peace and hope for an end to the crisis," she attempted to clarify.

This is not the first time that a joint photograph of Arab and Israeli beauty queens has evoked controversy. Twice in the last decade, Lebanon's beauty queen was forced into hiding after pictures of her with her Israeli counterpart surfaced.

As a general rule, Arab contestants are warned to stay away from the Israeli delegation but in the case of Idan, who lives in the US and entered the competition late, it seems the production team did not have time to warn her.