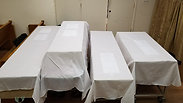 The fire victims' four coffins
Photo: Yisrael Berger
Thousands attend Azan family Brooklyn funeral procession
Funeral procession of Aliza Azan, her three children—Moshe, Yitzah and Henrietta—killed in accidental menorah house fire, winds through Flatbush neighborhood of Brooklyn with thousands of city's Syrian Jewish community in attendance; Religious Services Minister Azulai requests victims be buried in Holon cemetery, despite not being Israeli residents, is granted request.
The funeral procession for the four members of the Azan family who perished in a Brooklyn house fire Monday began later that same day, with thousands of mourners from the city's Syrian Jewish community accompanying Aliza (Luza) and her three children—Moshe, Yitzah and Henrietta—in their symbolic funeral that took place before they were flown to Israel to be buried.

The fire department released a statement late Monday saying fire marshals determined the blaze to be accidental, caused by an "unattended lit menorah."

Neighbors said the family kept the menorah in a living room window throughout the eight-day holiday, also known as the Jewish Festival of Lights.

The Flatbush funeral procession

Thus, thousands of New York City's Syrian Jews—who could not attend the family's planned Israeli funeral—congregated near the Halabi synagogue of Jews from Aleppo, in the borough's Flatbush neighborhood.

In accordance with the Hanukkah holiday traditions no eulogies were made, with family members and others in attendance only reading the "Kaddish" prayer and verses from the book of Psalms. The four bodies will later be flown to Israel, where they will be interred in the Holon cemetery Wednesday.

The Azan family's loss was not the first to strike the borough: less than three years ago a fire ravaged the home of the Sassoon family, also Syrian Jews, claiming the lives of seven children. Monday's fire was no less devastating, claiming the life of Aliza, 39, and her three children: 11-year-old Moshe, 7-year-old Yitzah Hillel and 3-year-old Henrietta Leah.

The family's father, Yossi, leapt into the flames in an attempt to save his wife and children but was badly burned himself and is currently fighting for his life in hospital.

Links between the Sassoon and Azan families do not stop at their mutual tragedies, however, as both families knew one another and were on friendly terms, as they were both members of the city's Syrian Jewish community and the children all went to the same school.

Yossi and Luza are Israelis who were raised, educated and lived in Israel. Luza is part of a well-known family of Syrian descent, and her father was the Syrian community's rabbi in Holon.

Despite no longer being Israeli residents, Minister of Religious Services David Azulai made an irregular request for them to be permitted to be buried in the cemetery of the town where they lived while they were in Israel, as per Yossi's request, and was granted his request by the director general of greater Tel Aviv's burial society Avraham Manala.

The couple's many friends in Israel also pitched in to help, with some leaving for New York and some assisting from Israel. The family's friends have taken then necessary arrangements upon themselves, including flying the bodies to Israel, organizing the Holon funeral and supporting the family members still hospitalized.

One such friend is Itzik Sudri, who knows Yossi from their days at the yeshiva. Sudri said the family's friends were all ensconced in grief and prayer for his recovery. "We're in complete shock, feeling immense pain and can't stop crying," he said.

Sudri described Yossi and Luza as a couple "filled with joie-de-vivre and hospitality, people who opened their door to anyone who came to Brooklyn from Israel."

An Israeli relative of the family described the family's state to ultra-Orthodox website "Behadrey Haredim", saying, "Everyone's crying non-stop, it's like a nightmare, but despite the immense difficulty we—as observant Jews—reconciled ourselves to what happened. We have no questions: God gave, and God hath taken away."

An appeal for the public to pray for the speedy recovery of the members of the Azan family injured in the fire went out over religious social media networks and media outlets.