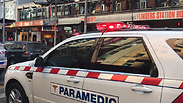 Scene of the incident
Photo: EPA
Car rams into pedestrians in Melbourne
Australian man of Afghan descent with a history of mental health issues was arrested after SUV he was driving plowed into crowd on a busy Melbourne street, leaving 14 injured; witnesses say car ran a red light and sped up before hitting pedestrians; police say ramming was intentional, but there was 'no evidence to indicate terrorism.'
An Australian man of Afghan descent with a history of mental health issues drove a car into Christmas shoppers in the city of Melbourne on Thursday, injuring 14 people, but police said they did not believe the attack was terror-related.
Police arrested the 32-year-old driver of the white Suzuki SUV, saying he has a history of assault, drug use and mental health issues.
"At this time, we don't have any evidence or intelligence to indicate a connection with terrorism," said the acting chief commissioner of Victoria State, Shane Patton.
Scene of the incident
The Victoria State ambulance service said it had taken 13 people to hospitals, with several in critical condition, including a pre-school aged boy with head injuries.
Early reports said there were two men in the car, but Patton confirmed the suspect was driving alone.
Confusion had arisen when a second man was seen being apprehended alongside the driver. Patton said this was a 24-year-old man who was seen filming the incident on his mobile phone and found carrying a bag containing three knives.
Patton said that man was taken into custody to determine whether he was connected.
"At this stage we don't believe that to be the case," he said.
Patton said the investigation would involve the force's counter-terrorism unit to ensure "that there isn't that connection, and that there is no ongoing threat," but that this was being treated as a singular incident. He said police were working with Australian intelligence agency ASIO, and with Australian Federal Police, and that there was no intelligence to suggest the man was a person of interest to those bodies.
"We understand he's on a mental health plan and receiving treatment for a mental illness," Patton said.
Witnesses described horrific scenes from the incident, which started when the SUV ran a red light outside the city's iconic Flinders Street train station and sped up to hit pedestrians crossing the road, striking more than a dozen people before crashing into a traffic barrier near a cable car stop.
"I was crossing Flinders Street on the way to the train station. I heard an engine rev behind me and heard a thump," one man identified only as David said on ABC TV. He said he turned around saw "people literally getting thrown into the air as it hit them."
"As it (the car) approached this intersection ... it just mowed everybody down, people were flying everywhere," one witness who identified herself only as Sue told radio station 3AW.
A witness told the Australian Broadcasting Corp the vehicle was travelling at 80 to 100 kph (50-62 mph).
"There was no breaking or any slowing down at all," said Jim Stoupas, who said he was standing outside his donut shop when the car crashed into the people, one after another.
"All you could hear was just 'bang bang bang bang bang'," he said.
Bystanders rushed to drag the driver out of the vehicle before police arrived to arrest the man.
Prime Minister Malcolm Turnbull sent a tweet calling the incident "shocking" and said his thoughts and prayers were with the victims and those treating them.
"Our thoughts & prayers are with the victims & the emergency & health workers who are treating them," Turnbull said in a post on his official Twitter account.
"We've seen an horrific act, an evil act, an act of cowardice perpetrated against innocent bystanders," said the state premier, Daniel Andrews.
Police said officers have been deployed across the area and the site would be closed-off as a crime scene for some time.
"Police will continue to have a strong presence in the Melbourne CBD tonight," Barrett said.
The area was busy with Christmas shoppers at the time of the incident.
In January, four people were killed and more than 20 injured when a man deliberately drove into pedestrians at a spot just a few hundred metres away from the Thursday incident. Police said the January incident was not terrorism-related.
Melbourne has installed about 140 concrete bollards in the city centre to stop vehicle attacks by militants.
Sydney, Australia's biggest city, has installed concrete barricades in main pedestrian thoroughfares.
Authorities in cities around the world have taken similar measures following attacks in Europe and the United States.
Australia has been on a "high" national threat level since 2015, citing the likelihood of attacks by Australians radicalized in Iraq and Syria.
A staunch ally of the United States and its campaign against the Islamic State group in Syria and Iraq, Australia believes more than 100 of its citizens are fighting there.
Two hostages were killed during a 17-hour siege by a "lone wolf" gunman, inspired by Islamic State militants, in a cafe in Sydney in December 2014.