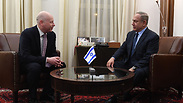 Jason Greenblatt with PM Netanyahu
Photo: Kobi Gideon, GPO
US to Israel: Hold back on huge Jerusalem construction
Trump's special Mideast envoy Jason Greenblatt and ambassador David Friedman tell Netanyahu Palestinian snubbing of White House will be temporarily overlooked, but Israel should refrain from inflaming matters amid reports of wide scale J'lem construction plans.
President Donald Trump's special Middle East Envoy Jason Greenblatt and US ambassador to Israel David Friedman told Prime Minister Benjamin Netanyahu during a meeting on Wednesday to hold back on giant construction projects in Jerusalem, despite Trump's recent recognition of the city as Israel's capital.

During the meeting, Netanyahu told the two American representatives that he was to committed to engaging in peace negotiations headed by President Trump with the Palestinians, while the Americans presented their analysis of the Palestinian reaction to Trump's Jerusalem announcement.

According to Greenblatt and Friedman, the Palestinians, still fuming over the declaration, are not prepared to return to a peace negotiation mediated by the US. However, the US is prepared to allow a grace period as the Palestinians reconcile themselves with Trump's decision.

They also stressed that should the Palestinians choose not to return to being open to the US acting as peace interlocutors, the White House has no intention of advancing a peace process without them, adding that the Palestinians would be missing an opportunity.

While the US administration continues to work on what the US president has commonly referred to as "the ultimate deal" between Israel and the Palestinians, Greenblatt and Friedman communicated a message to Israel indicating that they do not want to see the government implement a sudden increase in momentum in construction in Jerusalem, reasoning that it will only inflame Arab society, and discourage the Palestinians from returning to the negotiating table.

The message was given after the Americans caught wind of reports that Israel was planning a widescale construction plan in Jerusalem that is being formulated by the Ministry of Construction.

Greenblatt and Friedman also assured the Israelis that Trump's announcement that he had instructed the State Department to transfer the American Embassy from Tel Aviv to Jerusalem was serious.

Underscoring the point, the duo told Netanyahu that David Friedman will be responsible for laying the groundwork and personally preside over the move by directing a special team in the State Department to that end.