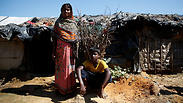 Rohingya refugees in Bangladesh
Photo: Reuters
The Israeli Foreign Ministry established clandestine contact with Bangladesh—a Muslim country without any diplomatic ties with Jerusalem—to offer a significant humanitarian aid package for the hundreds of thousands of Muslim refugees from the Rohingya minority who fled to the country for fear of the Myanmar (former Burma) military.

Bangladesh expressed gratitude to Israel for the offer, but informed it that it cannot accept aid due to the sensitivity involved and the political ramifications that could ensue.

The Israeli foreign Ministry is reportedly exploring other routes through which to provide humanitarian assistance to the Rohingya refugees, who are still languishing in Myanmar in camps run by the UN or other international organizations.

This year, the Myanmar army launched a vicious assault on the Rohingya minority living in the Buddhist country, and according to various reports, the army has slaughtered at least 10,000 people and ravaged the population by triggering the flight of up to 665,000 more who have sought refuge in neighboring Bangladesh.

Many observers have described the brutality as genocide or ethnic cleansing against the minority.

Surveys of Rohingya refugees in Bangladesh by aid agency Medecins Sans Frontieres have shown at least 6,700 Rohingya were killed in Rakhine state in the month after violence flared up on August 25, the aid group said last week.

The wave of the Rohingya refugees to Bangladesh began on that date, when attacks by Muslim insurgents on the Myanmar security forces provoked a sweeping response by the army and Buddhist vigilantes.

UN High Commissioner for Human Rights Zeid Ra'ad al-Hussein has called the violence "a textbook example of ethnic cleansing" and said he would not be surprised if a court eventually ruled that genocide had taken place.

Since then, shocking reports have reached the West about the brutality and cruelty gripping the country as the Myanmar army continues on its unabated retributive rampage, which has been characterized by the mass rape of women and children in front of their fathers and husbands, children and siblings, along with the massacre of civilians.

Human rights groups claim that despite the fact that the Myanmar government signed last month an agreement to allow some of the refugees to return to the country from Bangladesh, the army continues set fire to their villages, leaving them with nowhere to live.

Many citizens of Myanmar consider the Rohingya to be a group of Muslim invaders who bear responsibility for terror attacks that have hit the country.

Reuters controbuted to this report.