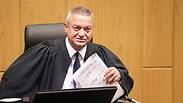 Judge Kabub
Photo: Motti Kimchi
Arab Muslim judge nearing Supreme Court appointment
Chaled Kabub closing in on nomination to Supreme Court, which if successful will make him first Arab Muslim judge to receive permanent appointment; Israel Bar Association chairman, additional member of Judicial Selection Committee support Kabub, while Justice Minister Shaked may consent as well; remaining 3 Supreme Court justices in committee hard pressed to object.
Judicial Selection Committee is growing more likely to appoint the first Muslim Supreme Court justice in the country's history, as Yedioth Ahronoth revealed Thursday morning that Israel Bar Association representatives have decided to nominate Tel Aviv District Court Deputy Chief Judge Chaled Kabub as their Supreme Court nominee, thereby forgoing the appointment of a private sector attorney.

While Justice Abdel Rahman Zuabi has effectively already served as the first Muslim on the Supreme Court's bench, it was in a temporary capacity, thereby potentially making Kabub the first Muslim to receive a permanent position on the bench.

The Judicial Selection Committee is currently looking to appoint two new Supreme Court justice, replacing Justices Yoram Danziger and Uri Shoham who will retire this coming February.

Supreme Court Chief Justice Esther Hayut, Justice Minister Ayelet Shaked and Israel Bar Association Chairman Efi Nave have yet to come to terms on the identity of the two new justices in preliminary talks, but an understanding was reached to replace the outgoing Justice Danziger with a private sector attorney.

The Israel Bar Association was thus supposed to suggest a series of nominees for the role, with the committee selecting the one found most apt.

In a dramatic turnaround, however, Chairman Nave and Judicial Selection Committee member Ilana Seker have decided to nominate Judge Kabub, a Muslim Arab, to the Supreme Court's bench.

The pair explained that for such a historic appointment—the first Arab Muslim to receive a permanent appointment—the Israel Bar Association was willing to concede the appointment of a private sector attorney to replace Danziger.

Nave and Seker further explained that Judge Kabub personified in his private and juridical character the best of both worlds: he is considered an outstanding jurist in many fields—economic, criminal and civil—and known to be speedy and effective, with a laid back, "people's person" judicial temperament.

Beyond the above, the main reason for the Israel Bar Association's support for Kabub's candidacy was the fact he was a Muslim Arab. Nave was of the opinion appointing a Muslim justice to the Supreme Court will do much to promote the idea of representing all facets of Israeli society in the land's highest judicial institution, or an opportunity for it to practice what it preaches.

Nave also noted that Israeli Arabs, most of whom are Muslims, comprise almost a fifth of the populace and that the time has come to appoint the first Muslim judge to the Supreme Court.

"Recognizing the immense importance of such an appointment, the Bar is willing to push appointing a private sector attorney to the next round of appointments," he concluded.

Judge Kabub's name was floated to fill the so-called "Arab seat" during the previous round of Supreme Court appointments. Then Supreme Court Chief Justice Miriam Naor ended giving her support to Christian Arab George Karra, with her reasoning being he only had a handful of years left to serve in the Supreme Court. Shaked acquiesced to Naor's request as part of a deal between them and Karra was selected.

Legal sources said that with Nave and Seker throwing their weight behind Kabub's nomination, the three Supreme Court justices who are also part of the Judicial Selection Committee—Chief Justice Hayut and Justices Hanan Melcer and Neal Hendel—will be hard pressed to object to it, as Kabub is an exemplary and esteemed judge already widely considered to be a natural replacement for Karra when he retires in four years.

Minister Shaked is also expected to support the nomination, the sources said, so long as the second justice is selected from her own list of nominees.

Kabub mainly presided over criminal cases when he was starting out, but later proved himself capable in civic matters and is today considered one of the stars of the Tel Aviv District Court.

Throughout his years in the judiciary, Kabub has proven unafraid to pass down harsh sentences on organized crime members and white collar offenders alike.