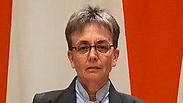 Dr. Leah Goldin, mother of fallen IDF Lt. Hadar Goldin, whose remains are held by Hamas, spoke at a special session of the UN Security Council on the issue of bodies and prisoners in the Gaza Strip.

"My son was not a victim of war, but of a humanitarian ceasefire initiated by the United Nations," noted the bereaved mother, explaining that Hamas used the ceasefire "to ambush Israeli soldiers when they had let their guard down in light of the ceasefire."

"Israel launched Operation Protective Edge in order to stop Hamas rocket fire and destroy the terror tunnels," she elaborated. "Hadar's unit defended the units that destroyed these offensive tunnels. Tzur, Hadar's twin brother, rescued Palestinian families caught in the crossfire after Hamas used them as human shields.

"During Operation Protective edge, Israel agreed to ceasefires that were all violated by Hamas. In the end, Israel agreed to a ceasefire initiated by the United Nations and the United States. Less than two hours after Hamas agreed—the terrorists came out of a tunnel that had come out of a cellar in a house in Rafah and ambushed my son, killed him and dragged him through the tunnel.

"The soldiers tried to rescue him. Tzur received a call to rescue Hadar, not knowing that the soldier who was shot and kidnapped was his twin brother."

Leah Goldin's speech

Goldin then fumed that, despite former Secretary-General of the United Nations Ban Ki-moon's explicit condemnation of Hamas' over the issue and calls by International leaders for her the return of her son's body, "nothing happened. Absolutely nothing."

"There is no expression of shock from the UN states and there are no calls for his release. There is only a painful and brutal silence," she lamented.

"To hold the bodies of our fallen sons is barbarism," Goldin concluded, asking why the UN accepts this behavior and calling upon council members to "be on the right side of history" and act immediately to restore the bodies by conditioning the continuation of humanitarian aid to Gaza on the return of Israeli soldiers and citizens, both living and deceased.

The bodies of fallen soldiers Hadar Goldin and Oron Shaul, both of whom fell during Operation Protective Edge, are held by Hamas along with three Israeli civilians who are reportedly still living—Abera Mengistu, Hisham al-Sayed and Jumaa Ibrahim Abu-Ghanima.

The discussion was convened by the US and the Ukraine in the form of an "Arria-Formula" Meeting—a special and informal discussion of the council. It was attended by more than 30 diplomats.