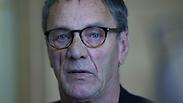 Mohammad Bakri
Photo: Motti Kimchi
GOC Central Command backs officer suing 'Jenin, Jenin' creator
Lt. Col. (res.) Nissim Magnagi is suing Mohammad Bakri after he was shown in the controversial movie while a Jenin resident talks about how his home was ransacked by soldiers; Supreme Court has already determined the entire movie to be defamatory but court yet to rule against Bakri.
GOC Central Command Maj. Gen. Roni Numa made an appearance Thursday at a Lod court hearing a defamation suit against "Jenin, Jenin" movie creator Mohammad Bakri.

Numa arrived at the courthouse to support the plaintiff, Lt. Col. (res.) Nissim Magnagi, who took part in the fighting in the Jenin refugee camp during the 2002 Operation Defensive Shield, and is suing Bakri for NIS 2.6 million for slander.

Magnagi claims in his suit that he appears in the movie walking by an army jeep while a Jenin resident is heard describing how IDF soldiers entered him home and stole all of his savings during the fighting.




Magnagi's suit comes five years after the Supreme Court rejected a similar suit by five other soldiers. The court determined the soldiers have no grounds to sue because they do not appear in the movie and their names are not mentioned at all.

However, the court held that the entire movie constitutes slander based on Bakri acting without good faith and with a deliberate intention to distort matters.

In an unusual move, Attorney General Avichai Mandelblit joined Magnagi's suit.

In addition to Maj. Gen. Numa, bereaved parents also arrived at court to demand Bakri is convicted, 16 years after the movie's release.

"We demand the judicial system to give justice to IDF soldiers, it is its duty," one bereaved parent said. "Despite the fact judges have determined time and time again these are lies, defamation and slander, they still allow Bakri to remain on top with no verdict against him."

In his defense, Bakri claimed the footage in question was taken by the IDF, and that the shot that shows Magnagi is "part profile, part from the back."

Following the hearing, the Palestinian director claimed that "this trial is part of political persecution that started in 2002, and since the rise to power of the right wing it has only gotten worse. No one has a monopoly over the truth, not even me or the court. It was determined to be defamation, but I brought to light the truth of the Palestinians who experienced this difficult ordeal and talked about it. To the common Israeli this is defamation, but to the Palestinians this is the truth."