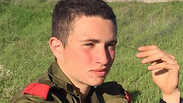 Khaled Abu Jaudah and his half-brother Zahi Abu Jaudah, two Bedouin from Kuseife, were indicted Sunday morning for the murder of IDF soldier Ron Kokia in Arad a month ago.

Khaled Abu Jaudah was charged with premeditated murder, attempted murder, illegal possession of a knife, making preparations to commit a terror attack and the use of weapon—all of which are considered acts of terrorism.

Zahi Abu Jaudah was charged with attempted murder which is considered an act of terrorism, illegal possession of a knife which is considered an act of terrorism, aiding and abetting after the fact and obstruction of justice.

The investigation revealed that Khaled identified with terror organizations and harbored extremist views, and that Zahi served as his confidant.

According to the indictment, Khaled watched videos on websites and on social media of IDF operations in the Gaza Strip and videos praising Hamas on numerous occasions. These videos influenced Khaled, who started praising Allah and Islam on his Facebook page.

On October 30, 2017, Khaled wrote on Facebook: "Allah, protect the land of the Muslims, bring down your enemies, the enemies of the faith, and give us victory over the tribe of heretics."

The Be'er Sheva District Attorney's Office argued that following this post, Khaled decided to carry out an attack against an IDF soldier to show his support for the Palestinian people and Hamas.

Khaled originally planned to kidnap a soldier by using anesthesia to which he had access in Soroka University Medical Center in Be'er Sheva where he was gaining work experience for his studies. He planned to use him as a bargaining chip to secure the release of Palestinian security prisoners.

Revising his plan, Khaled intended to kill the soldier and use his rifle to carry out more attacks.

Khaled allegedly did several things in preparation for the attack, including withdrawing NIS 54,000 from his bank account to cover his living expenses after the attack, while he was on the run from Israeli security forces. He also bought a car that he could use to escape after carrying out the attack.

At a certain stage of his preparations, Khaled shared his intentions with Zahi, asking his half-brother to reconnaissance the area with him and find a soldier to attack. Zahi agreed, and the two conspired to carry out a terror attack together.

The two planned to find an armed soldier alone at nighttime, stab him to death with a knife and snatch his weapon. The two agreed to use the code word "pizza" for the weapon, so they could discuss their plans without their true intentions being revealed. Khaled also showed Zahi the knife he would later use in the attack.

The two half-brothers went on several night trips to the Arad area, during which they scouted bus stops and cafes in search of a victim. The two spotted many soldiers walking alone at night, but they were unarmed, so the terrorists passed up on them.

At a certain point, the two moved their focus to the Tel Arad military base, which is located near their home, and marked it as a place where they could find a possible target. The two traveled to the base area on two occasions, looking for soldiers to attack. On both of these occasions, the terrorists did not spot a soldier on his own, only a group of soldiers, and therefore could not carry out the attack.
The murder
In his Shin Bet and police interrogations, Khaled Abu Jaudah admitted to carrying out the stabbing attack "as revenge for IDF activity in the West Bank and Gaza Strip" and to help the Palestinian cause.

According to the indictment, on November 30, Khaled spotted Sgt. Ron Kokia on his own at a bus stop in Arad and decided to carry out the attack. He called Zahi and told him that "there's pizza."

Khaled then exited his car armed with a knife and walked towards the soldier, who was sitting on a bench. Khaled approached Kokia from behind and stabbed him several times in different parts of his body, while trying to snatch Kokia's weapon.

The soldier held onto the weapon to stop it from being taken, but Khaled was eventually able to overpower Kokia and escape to Kuseife with the weapon, leaving Kokia behind to bleed to death.

Kokia was able to walk for several steps onto the road, where passersby saw him bleeding from his neck and mouth and heard him saying "I am dying, I am dying." He was declared dead shortly after that.

When Khaled returned home to Kuseife, he met Zahi and showed him the bloody knife and the soldier's weapon. Khaled told Zahi he had murdered a soldier and stolen his weapon, thus realizing their plan.

The two hid the weapon, while Khaled washed the knife to clean it of the victim's blood.

Afterwards, the two went out for pizza, with Zahi telling Khaled that he must not confess to the murder and must not reveal Zahi's own role in it. The two agreed that if they are arrested, they would give a false alibi, saying they were eating at a pizza place in Arad at the time of the murder.

Less than 24 hours later the two were arrested in a joint operation of the Shin Bet and Israel Police.