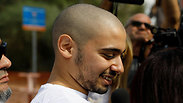 Elor Azaria
Photo: Reuters
Elor Azaria's parents submit second pardon request to President Rivlin
Parents of soldier who shot, killed neutralized terrorist in Hebron submit second pardon request to president, a month after original appeal was rejected; request also signed by PM Netanyahu, Defense Minister Lieberman, other ministers, MKs; President's Residence: 'Additional request for pardon may only be made 6 months after previous decision.'
Charlie and Oshra Azaria, parents of former IDF soldier Elor Azaria who was convicted of shooting and killing a neutralized terrorist in Hebron, submitted a request for clemency to President Reuven Rivlin Sunday, a month after the president denied the soldier's original request.

In their letter, Azaria's parents appealed to Rivlin to "reconsider pardoning our son Elor". Azaria was convicted of manslaughter and sentenced to 18 months in prison, but is now slated to be released in October 2018, after Chief of Staff Gadi Eisenkot shortened his sentence by four months.

Azaria's parents attached an appendix to their pardon request containing another letter signed by 55 ministers and MKs, one of which was Prime Minister Benjamin Netanyahu. Defense Minister Avigdor Lieberman, Public Security Minister Gilad Erdan, Justice Minister Ayelet Shaked, Education Minister Naftali Bennett, Interior Minister Aryeh Deri, Finance Minister Moshe Kahlon and Welfare Minister Haim Katz cosigned the letter.

Azaria's attorney Einat Gloser noted that "After the original request was denied, the prime minister, ministers and MKs signed a request to reexamine pardoning my client. We are of the opinion that this request, accompanied by the aforementioned signatures, constitutes special circumstances meriting reexamining the request for clemency."

"By the very nature of the prime minister and ministers' appeal to (President Rivlin), they believe pardoning my client will not damage the might of the IDF's soldiers or the State of Israel," Gloser added.
'Your decision can bring an end to the affair and restore calm to the discourse'
The letter—signed by the prime minister and other senior government officials—said, "We the undersigned ask you to reconsider your decision and pardon Elor Azaria. The Azaria affair has torn Israeli society asunder and created division and polarization, and your decision (to pardon Azaria) can end it all and restore calm to the discourse. One cannot ignore the general public's opinion, which maintains Azaria was a scapegoat who was unwillingly turned into a symbol and paid the price for it.

"Azaria was incarcerated at the Nahshonim base for 18 months. He has spent the last four months incarcerated in a military prison and—along with his family—has gone through an excruciating journey. His father heard of your decision to not pardon him while he was waiting for an MRI exam in a hospital. He suffered a stroke due to the events. His mother lost dozens of kilograms and her mental state is in shambles. It is our opinion that in this instance it would be proper to express a measure of mercy, and put an end to the Azaria family's suffering of the past two years.

"We mustn't forget, Mr. President, that the case involves an exemplary combat soldier, who acted in the scene of a terrorist attack against a terrorist who wished to murder soldiers in Hebron, and in the midst of a nationwide wave of terrorism. It is our subjective opinion that Azaria felt danger due to the knife's proximity to the terrorist and statements made on the scene that he still posed a danger and carried an explosive device, statements made after soldiers were stabbed when the terrorist was still moving on the road.

"Legal arguments have been made, the sentence has been passed and Elor started serving his prison term. When he began serving his sentence, he stated that he would not have fired on the terrorist if he had known he was not carrying an explosive device. He added he was proud to wear the IDF's uniforms and called upon teenagers to enlist and serve their people and country with pride and love. This too should be taken into consideration.

"The chief of staff has decided to reduce Elor Azaria's sentenced by four months, but it is within your power, Mr. President—and only within your power—to pardon him immediately and bring an end to this grim affair. Each official wields their own power, and the fact the chief of staff decided to shorten his sentence justifies a further reduction on your part, and not vice versa."

The President's Residence commented on the second pardon request, saying, "The request was received and will be answered directly to the people who submitted it. It's important to note that despite years' long policy on handling pardons, a renewed pardon request may only be submitted after six months have elapsed from the date of the president's previous decision on a pardon, unless a significant change in circumstances had occurred."