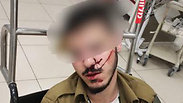 Druze soldier after attack
The Military Prosecutor's Office submitted an indictment Tuesday against two IDF soldiers after they attacked and beat unconscious a fellow Druze soldier in early December in a military base in northern Israel where he was stationed.

In the indictments submitted to the Military Northern District Court, the two soldiers were charged of committing serious offenses of aggravated assault and causing serious injury in aggravated circumstances.

The two soldiers, who were arrested shortly after the attack, were accused of beating the soldier in two separate instances using unspecified objects, breaking his nose and causing him to bleed.

The military court requested that the arrest of the two soldiers be extended until the conclusion of the judicial proceedings against them.

"The IDF will not accept the violent acts towards soldiers and will continue to act, using the tools at its disposal in order to prevent a recurrence of similar incidents and in order hold anyone accountable who acted violently and against the law," the Military Prosecutor's Office said in a statement.

After the victim's family posted on Facebook earlier this month that their son had been severely beaten by soldiers on his base, the IDF confirmed it in a statement saying that "a Criminal Investigation Division (CID) inquiry is underway. We denounce any incidences of violence."

His family detailed on Facebook how the soldier was attacked.

"He was savagely kicked and punched by two soldiers for refusing to vacate his dorm. The following day, they attacked him again, until he lost consciousness and lay prone, bleeding and humiliated on the ground," his family wrote and accompanied the post with photos they said showed the aftermath of the beating.

The Facebook post read, "The photo you see here was not taken at the scene of a terrorist attack, not in (Jerusalem's) Damascus Gate and not in a kasbah (old city) in the territories. The soldier depicted in the photo was savagely attacked in his base by two soldiers—two criminals in uniform."

The assaulted soldier's grandfather, Sa'id Hussein, slammed the attack against his grandson, saying in an interview with Ynet: "To beat a soldier in the IDF until he loses consciousness requires an investigation. This is not the army I served in thirty years ago. I didn't send my grandson to the army for this kind of thing.