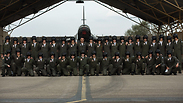 Flight Academy graduates, Wednesday
Photo: IDF Spokesperson's Unit
You too will operate behind enemy lines, IAF chief tells new pilots
Speaking at a Flight Academy graduation ceremony at the Hatzerim Air Base, Major-General Amikam Norkin refers to 'planes that have been striking in the Middle East in recent months;' Prime Minister Netanyahu conveys a message to Hamas, saying ' it is up to Gaza whether there will be a state of calm in Gaza.'
Prime Minister Benjamin Netanyahu conveyed a message to Hamas on Wednesday, saying that "it is up to Gaza whether there will be a state of calm in Gaza."

Speaking at an Israel Air Force Flight Academy graduation ceremony at the Hatzerim Air Base, the prime minister said: "We want the population to live its life quietly and calmly, but it is up to Gaza to decide whether there will be a state of calm in Gaza. We will not allow or tolerate an escalation from Hamas or from any other terrorist element. We will use all means to defend Israel's sovereignty and security."

Thirty-six soldiers, including one woman, graduated from the IAF Flight Academy on Wednesday, out of 340 cadets who originally started the pilots' course. The ceremony was attended by Prime Minister Netanyahu, IDF Chief of Staff Lieutenant-General Gadi Eisenkot and IAF Commander Major-General Amikam Norkin.

Netanyahu praised the IAF's activity, saying that "with the best planes in the world and the best pilots in the world, the Air Force has the ability to reach short distances and faraway destinations, as required. We are meeting major challenges in the north, in the south and in the east.

"On all the fronts there are centers and branches of radical Islam. We are an island in this stormy region and have a clear policy of protecting our security. We will not allow Iran to expand in Syria in order to harm us."

Addressing the new graduates, Air Force Commander Norkin implied that they too would be required to operate behind enemy lines.

"Your friends are flying the planes that have been striking in the Middle East in recent months, demonstrating initiative and creativity. It won't be long before you will operate behind enemy lines too. I know I can trust you."

Turning to the only woman pilot and to a religious graduate, Major-General Norkin said: "It's not the order that guides them, but the values they were raised on at home, the contribution to the state's security. That's what they see before their eyes. This is the face of Israeli society in all its glory."

Lieutenant-General Eisenkot said, "We have a powerful army and a powerful and accurate air force. We count on you to protect the State of Israel's security and to secure the state's victory if required to."

Defense Minister Avigdor Lieberman said, "The Israel Air Force has become one of the best and most advanced air forces in the world. If, God forbid, another war erupts in the north, the result will be much more impressive. We are going to face some challenges we have never dealt with before."

Lieutenant Lior, the only female graduate of the course, will join her 48 predecessors, since the High Court's ruling—which said women may also fly in combat—in a petition submitted by Alice Miller in the nineties.

"I think it's significant service that contributes a lot and anyone who is capable of doing so should attend and graduate from the course," Lior said days before the ceremony, adding in a female-specific message, "Not all young women know they are capable of being here. Anyone who has that dream or thinks she wants to give it a shot, I call on them to attend the flight course and live their dream."