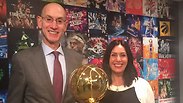 NBA Commissioner Silver (L) and Minister Regev
Photo: Culture and Sports Ministry
NBA includes 'Palestinian Territory, Occupied' option in All Star voting
Voting for NBA All Star Game includes option of 'Palestinian Territory, Occupied' as user's country of origin; enraged, Sport Minister Regev writes NBA Commissioner Silver to protest, demand writing be changed; NBA removes 'Occupied' from text following day. 'Text created by third party,' NBA says; 'Israel's lands not occupied,' Regev declares.
Israeli basketball fans selecting players to participate in the National Basketball Association (NBA)'s All Star Game were chagrined to discover that one of the options when selecting the voter's country of origin was "Palestinian Territory, Occupied."

Voting for the annual All Star Game, pitting teams of the best players from the Western and Eastern Conferences, asks voters to fill in their personal details, including selecting their country of residence. Israeli users voting on the site were surprised to find the above option, possibly indicating the basketball league was making a political statement on the Israeli-Palestinian conflict.

Culture and Sport Minister Miri Regev was incensed at the discovery, and sent a missive to the league's Commissioner Adam Silver Thursday in which she expressed her displeasure.

"I was surprised to learn that the NBA's official website, where hundreds of millions of basketball fans are currently voting for the top players from the East and West to participate in the league's most star-studded event—the 2018 All Star Game—contained the option to select 'Palestinian Territory, Occupied.' This country, as everyone well knows, does not exist," Regev wrote Silver.

"I consider the inclusion of 'Palestinian Territory, Occupied' in the list of countries on your official site as legitimization of dissecting Israel and as blunt, explicit interference, standing in opposition to the official stance of the American administration and the statements of President Donald Trump, who has just recognized Jerusalem as the capital of Israel.

"I hereby express my displeasure, then, and am contacting you to ask to remove without delay 'Palestinian Territory, Occupied' from the list of countries," Regev appealed.

Sport Minister Regev, who met with Silver in his New York City offices this past July, added in her letter to the commissioner, "The publication on your official website harms the State of Israel and runs afoul of NBA policy as I'm familiar with it. I'm convinced you'll respond rapidly to prevent such a publication, which distorts historical facts and reality."

The NBA responded to Regev's appeal Friday, removing "Occupied" from the selection list and leaving only "Palestinian Territory."

NBA Executive Vice President of Communications Michael Bass wished to clarify the initial wording was "Not our stance. It was written by a third party and we apologize for the decision. As soon as we became aware of it, the site was updated."

A statement issued by Minister Regev Friday said, "I have said as much in the past and will state it again: Israel's lands are not occupied, which is why the false text should have been deleted. With this decision, Silver has proven his integrity and decency. I wish him the utmost success in continuing to lead the league and am looking forward to meeting a delegation of NBA stars that will come to Israel as part of our 70th Independence Day celebrations."