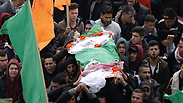 The state filed a request Friday for another hearing on the High Court of Justice's ruling that determined Israel cannot hold indefinitely the bodies of terrorists to be used as bargaining chips in negotiations over Israeli citizens and the bodies of IDF soldiers held by Hamas.

The motion was filed at the request of Attorney General Avichai Mandelblit and State Attorney Shai Nitzan.

The High Court ruled that if the state wants to keep terrorists' bodies, it must pass special legislation within six months that meets international standards. If it fails to do so in the allocated time, the state would have to return the bodies to the families.

"The State of Israel—as a state of law—cannot hold the bodies of terrorists for the purpose of negotiations in the absence of an explicit, authoritative provision of law," Justice Yoram Danziger said in his ruling.

"I will admit to the truth, that the decision on these petitions is very difficult for me," added the judge. "The suffering of the Israeli POWs and MIAs held captive by Hamas and the pain of their families is unbearable. However, as judges, our job is to rule according to law and in accordance with the binding legal rules."

In its petition, the state asked to delay the execution of the court ruling, arguing that the High Court's decision "damages the toolbox at the state's disposal and violates the existing law to advance negotiations on the return of living Israeli citizens and the bodies of IDF soldiers."