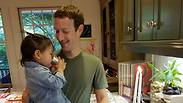 Facebook CEO Mark Zuckerberg and his son welcoming Shabbat
Photo: Facebook
First kosher restaurant opens at Facebook's Menlo Park campus
Facebook to inaugurate first kosher restaurant in Silicon Valley headquarters; restaurant—dubbed Kosher Truck—to provide kosher Middle-Eastern fare to campus's Jewish and non-Jewish employees alike; restaurant joins 11 other eateries of various styles scattered around campus.
A kosher restaurant has opened at Facebook's main headquarters in Silicon Valley's Menlo Park for the first time in the company's history. The kosher restaurant will join 11 other eateries, serving the campus's 6,000 employees.

The restaurant, which will serve fast food but also include seating, is located in a caravan dubbed the "Kosher Truck," which will travel back and forth between the two sections of the enormous campus—located on either side of California State Route 84 that winds through the Valley.

The Kosher Truck will serve Facebook's kashrut-observing Jewish employees as well as any other employees of the social media juggernauts who wish to enjoy Middle-Eastern fare.

The mobile restaurant will also be used to host short Torah study sessions, held on the premises every Tuesday afternoon.

The Menlo Park campus includes dining areas serving fast food of every imaginable kind—from Indian and Asian cuisine to a good old American burger, in addition to a trendy café located in a gigantic atrium on the roof of the main building and free snack and beverage corners scattered around the campus.

Food on the campus is served to employees free of charge—except for two full-service restaurants—and they're also allowed to host their family members for a hearty meal for free.

The company's Israeli development center, located on Tel Aviv's Rothschild Boulevard, included only a non-kosher cafeteria when it opened, but now also boasts a kosher kitchen.

Facebook Israel has reiterated its desire over the past year to increase the diversity among its employee and recruit more women, Haredim and Arabs—pursuant to the company's global policy, which seeks to integrate people of different cultural and social backgrounds into the company.

Administrators were even appointed to examine programs and locat relevant bodies to cooperate with on the matter. In the past few months, the company has invited Haredi software developers to seminars and even 24-hour "hackathons" (development marathons) with prizes for the winners.

In an interview with Yedioth Ahronoth's economic supplement earlier this year, director of Facebook Israel's R&D center Joey Simhon commented on integrating Haredim into the company and said, "There's a long road ahead. We're studying the field and trying to reach an understanding as to how to accomplish it."