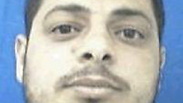 The cell's Gaza commander Abdullah Arar
Photo: Shin Bet Communications
A joint operation by Shin Bet, the IDF and the police led to the arrest of five members of a Hamas terror cell who planned to carry out attacks under the direction of a Hamas operative from the Gaza Strip.

In its investigation, the Shin Bet learned the group's handler was Abdullah Arar, a Hamas operative who was involved in the kidnapping and murder of Israeli Sasson Nuriel 12 years ago. Arar was deported to Gaza following the Gilad Shalit prisoner swap deal and has since returned to terrorist activity.

Arar allegedly instructed Alaa Salim, a resident of Jaba' in the Binyamin region of the West Bank, to form the cell and purchase an M16 rifle for the purpose of carrying out an attack. Arar also wired Salim funds to that end.

Salim later contacted Rian Touam, also a Jaba' resident, and asked him to assist him in procuring the M16, providing him with thousands of shekels to do so.

Salim also contacted Shehadeh Touam and asked for his help in recruiting more members. Touam, in turn, contacted Mahmoud Abu Arkov, a young Hamas operative from A-Ram, and recruited him to the cell.

The investigation was carried out in coordination with military prosecution, which examined the investigation's materials before deciding to indict the suspects.

A Shin Bet official said, "The Hamas command in the Gaza Strip has been increasingly motivated of late to promote attacks via Hamas members in Judea and Samaria. Security forces will continue to take determined action to foil Hamas's efforts to carry out attacks in Israel and wish to make it clear that Hamas in Gaza will be held responsible for any attack carried out at its behest."