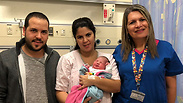 First 2018 baby at Hadassah
In a festive twist, the first 2018 birth at Hillel Yaffe Medical Center in Hadera was by Dr. Hila Sharabi (35), a senior physician in the hospital's obstetrics department, who gave birth to a daughter, her fifth child, at 1:23 am, weighing in at 2.65 kg.

The birth was on time, but nevertheless fell out on an auspicious occasion according to Dr. Sharabi. A week before the (bar mitzvah and) calling to the Torah of her oldest son.

"I was worried that I would not be able to make it to the important occasion, but now we have a double celebration: the birth and the upcoming bar mitzvah," said Dr. Sharabi happily.

The first Israeli birth of 2018 was at Rambam Hospital in Haifa. Adi Sharban (27) from Kiryat Ata gave birth to her firstborn son about a half an hour into the New Year. The healthy baby weighed 3.1 kilograms.

Adi and her spouse, Liran Menachem, said that the birth was five days early. "Apparently he wanted to join the New Year festivities," they said with a smile and made a wish that all the New Year's children "should grow up and make this country and the world a better place to live."

Yevgenia and Andrei Danor from Beer Sheva were delighted to welcome their firstborn daughter into the world at 00:34 at Barzilai Medical Center in Ashkelon. She was named Tahel. During 2017, there were 4,721 births at Barzilai.

The first birth of 2018 at Poria Medical Center in Tiberias was at 00:35, a son was born to Raz and Nadav from Yokneam. "Apparently due to the cold and rain it was a very quiet night at the birthing ward," said midwife Urit Segal. "The night shift was very quiet, only three births and one set of twins. We wish everyone a productive year."

Rinat (32) and Raviv Doron from Rishon LeZion became the happy parents to a newborn daughter, born at Assaf Harofeh Medical Center. The baby, weighing 3.69 kg., will soon join her one year-old brother Avishai at home. The birth was smooth thanks to the skilled and good-natured midwife, Ranana Brisk.

"We waited and hoped to begin the civil New Year with good news and sure enough we received a great gift for 2018, a beautiful daughter," said the mother Rinat after the birth. "I am happy and thank God the birth was uneventful. I wish us all a year of good tidings, some luck and plenty of health. All the rest will come I am sure."

At the newly opened Assuta Medical Center in Ashdod, Esty and Rudy Sassportas had a son at 2:20 am. The parents thanked the hospital staff for the great treatment.

At Meir Medical Center in Kfar Saba. 2018 began with the birth of a second son to Ronny and Avrahami Sender-Yisraeli from Kfar Saba. "I planned to give birth a week ago but somehow I got to my 41st week. It is definitely a great way to complete a pregnancy and begin a new exciting chapter in our lives. The birth was quick and I want to thank our midwife, Gali Shimshon who was there with me for support and assistance."

The Meir Medical Center had a very fruitful year in 2017 with 8,000 births including 200 sets of twins and three sets of triplets.

At Hadassah Hospital in Jerusalem, Lishar and Idan Farhi celebrated the birth of their daughter, the first in Jerusalem. Lishar, who chose to give birth without an epidural, said that she had a great experience with wonderful staff. "Everybody was encouraging and so helpful."

Shirel and Elichai Ben Shushan from Acre welcomed n 2018 with a huge smile on their face. The two arrived at the Galilee Medical Center in Nahariya and close to six am Shirel gave birth to a son, the couple's third child. The hospital saw 5,450 births this past year, 117 of them twins and three sets of triplets.

Adi banon (35) from Netanya gave birth for the second time at Laniado Hospital. She blessed all of Israel with health, happiness and free love, shortly before giving birth.

The first birth at Beer Sheva's Soroka Medical Center was by Dr. Shani Arutzker (33). Shani is a pediatrician at the hospital and this is the first child born to her and her husband Nathan, a doctor of internal medicine at Soroka. The hospital had a record 17,144 births in 2017.

At Ziv Medical Center in Safed, Olga (29) and Ziv Aharfi from Carmiel were the happy couple who brought a new daughter into this world; she will join her brother Uri Yosef of one year eight months.

Olga described the smooth and natural birth, assisted by the midwife and personnel of the birthing room. "We arrived at the hospital during the first rainy night of this winter season. These are rains of blessing that predict a blessed birth. Rachel the midwife accompanied me from the first moment with skill and concern… I felt so safe."

During 2017 there were 3,516 births at Ziv Safed Medical Center; 1,782 boys and 1,734 girls, among them 69 pairs of twins and one triplet.