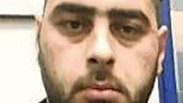 Mahmoud Makharmeh
Photo: Shin Bet
Shin Bet nabs Palestinian agent recruited by Iran
Palestinian computer engineering student from Hebron interrogated and indicted for carrying out espionage missions in West Bank and planning terror attacks after being recruited by Iranian agent residing in South Africa; Shin Bet: 'This shows Iranian involvement in terror against Israel.'
Iranian intelligence agencies recruited a Palestinian student from Hebron to carry out terror attacks against Israel and conduct espionage missions in the West Bank on behalf of the Iranian regime, it was cleared for publication Wednesday by the Shin Bet.

The spy was identified as Mahmoud Makharmeh, a 29-year-old resident of Hebron studying computer engineering, who was recruited by an Iranian intelligence activist residing in South Africa, according to a statement released by the Shin Bet.

An indictment was recently served against Makharmeh, who agreed to undertake his assignments ordered by Tehran three years ago.

"The activities that have been exposed illustrate Iranian involvement in the encouragement of terror against Israel and exposes the arms that are sent by Iran to different countries around the world for the sake of promoting hostile activities against Israel," the Shin Bet statement read.

Prime Minister Benjamin Netanyahu also echoed the conclusions, saying that "Iran is operating in a terroristic fashion against the State of Israel, not only by assisting Hamas and Hezbollah."

Makharmeh was enlisted to carry out the Iranian-backed intelligence operation by Bakhar Makharmeh, a family relative from Hebron who for the past few years has lived in South Africa.

During the Shin Bet investigation, it emerged that Iranian intelligence uses South Africa as an area for locating potential recruits and enlisting agents to operate against Israel in the West Bank.

Bakhar Makharmeh also acted on behalf of the Iranian intelligence services, and invested significant efforts in recruiting activists living in the West Bank and in Israel to carry out espionage and terror attacks for the Iranian regime.

Three years ago, Bakhar met with Mohammed in South Africa where he convinced him to join the Iranian intelligence ranks. Bakhar also arranged multiple meetings between his fresh recruit and Iranian officials, some of whom traveled to South Africa specially to meet their man on the inside.

According to the Shin Bet statement, Mohammed was instructed to carry out a series of clandestine operations and terror attacks against Israelis, including drafting a suicide bomber and assembling a terror cell that would later carry out a shooting attack.

He was also asked to undergo a training course on explosive materials and weaponry and open a computer store in Hebron, photograph it and then send on the pictures to his handler in South Africa and to the Iranians.

The Shin Bet suspects that the Iranians intended to use the strors as an intelligence-collecting base in the Hebron area.

Furthermore, Mohammed was also tasked with locating and recruiting Arab-Israeli citizens who could act as fifth-columnists and provide snaps of Israel. Other assignments included transferring SIM cards and Israeli currency to Iran, which the the Shin Bet says are prerequisites for the implementation of attacks on Israeli soil.

Carrying out one of his central missions, Mohammed managed to recruit two activists from Hebron as he went about constructing a larger terror cell. They were identified as Nour Makharmeh and Diaa Sarakhneh, both 22 from Hebron.

The Shin Bet investigation revealed that the two additions to the cell conspired, together with Mohammed, to act for the Iranians. Mohammed received $8,000 from Iran for his activities.

Particular emphasis was placed on the task of recruiting Israeli citizens, especially journalists due to their access to sensitive places inside Israel such as official governmental areas.

In the indictment served at the Judea and Samaria Military Court, Makharmeh was charged for establishing contact with a foreign and hostile organization, receiving money from an enemy and attempting to join an illegal organization.

Nour Makharmeh was also indicted for contact with an illegal organization while Sarakhneh was charged with attempting to join an illegal organization.

A Shin Bet veteran interviewed by Israel Radio about the case suggested the purported South African link may be unprecedented.

"Apparently the Iranians found fertile ground in South Africa," said ex-officer Adi Carmi, adding: "I do not recall South Africa ever having been used by the Iranians as a terrorist recruiting ground for the aim of carrying out attacks."

Reuters contributed to this report.