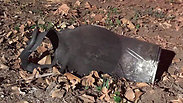 File Photo
Photo: Police Spokesmanship
IDF retaliates to rocket launched at Eshkol
IDF retaliates to rocket launched at Eshkol Regional Council, attacking Hamas military complex in southern Gaza; 'Hamas solely responsible for any fire emanating from Gaza,' IDF says; rocket landed without Code Red being triggered; no injuries or damage was reported.
A rocket fired from the Gaza Strip exploded in open space near a community in the Eshkol Regional Council Tuesday, catching nearby residents by surprise as no alarm was sounded to warn them ahead of time. Israel Air Force aircrafts attacked a Hamas military compound in the southern Gaza Strip in retaliation.

IDF Spokesperson's Unit said the target was attacked since the army considers Hamas solely responsible for any fire emanating from the strip.

Fragments of the rocket were found near a paved road. No one was injured and no property was damaged.

The police stated that "sappers are on their way to the location of the fall to deal with the remaining fragments."

It is not yet clear why no alarm was sounded prior to the blast.

Prime Minister Benjamin Netanyahu reiterated Sunday at the start of the weekly cabinet meeting that "Israel views Hamas as responsible for any rocket fire coming from the Gaza Strip."

"Since we destroyed the terror tunnel that penetrated our territory a few weeks ago, the IDF attacked about 40 Hamas targets," he added.

On Saturday, Israeli jets attacked a Hamas observation post in northern Gaza in response to rockets that were fired Friday morning at Israel during a ceremony held in memory of IDF soldier Oron Shaul, whose body has been held by Hamas in Gaza since Operation Protective Edge.

Footage of the alarm and explosions at Oron Shaul's ceremony (צילום: רועי עידן)

One of the rockets hit a structure in the Sha'ar HaNegev Regional Council, while the Iron Dome system intercepted two other rockets.

In a statement released after the fresh strike, the IDF Spokesperson's Unit said that the latest round of aggression from the strip was evidence of Iranian involvement.

"The fire on Friday proves again that Iran, using rogue and extremist terror organizations, is working to undermine the regional situation, is playing with the lives of the Gazan residents that could lead the strip to an escalation after years of quiet on the security front," the statement read.