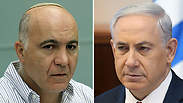 Former Shin Bet director Cohen and Prime Minister Netanyahu
Photo: Atta Awisat, Alex Kolomoisky
Ex-Shin Bet director, PMO spar over security for PM's sons
Yoram Cohen, the former director of the Shin Bet, says the agency recommended not to provide Yair and Avner Netanyahu with a permanent security detail; Netanyahu's office rejects claim, saying Cohen himself told the PM security for his children must be bolstered after Protective Edge.
Former Shin Bet director Yoram Cohen said Thursday the agency's recommendation was not to provide Prime Minister Benjamin Netanyahu's sons, Yair and Avner, with a permanent security detail, leading the PMO to cry foul.

"If I remember it correctly, during my tenure our opinion was that there was no real need to provide them with a permanent security detail, but it was rejected. There were quite a few decisions in which my recommendations weren't accepted," Cohen told Army Radio.

The Prime Minister's Office rejected Cohen's claims, saying he "alerted the prime minister, following Protective Edge and other security incidents, to the fact there was need to bolster the security arrangements for the prime minister's sons. Cohen even asked the prime minister to examine the possibility of having Yair transfer from the Hebrew University in Jerusalem to another university."

According to the PMO, websites affiliated with Iran's Revolutionary Guards "posted photos of the prime minister's sons seen in the crosshairs of a rifle as explicit targets for assassination."

A public committee headed by former Foreign Ministry director-general Joseph Ciechanover is tasked with examining the security situation and existing threats and determining the extent of security given to public officials and to their family members.

The committee determined that as long as the prime minister's children live in the official residence on Balfour Street in Jerusalem, they will have a security detail.

A ministerial committee headed by Transportation Minister Yisrael Katz has to approve the decisions of the public committee.

This is the first time the Shin Bet, an agency entrusted with the security of state officials, reveals there were objections to the security detail provided to the prime minister's children.

It also contradicts the Netanyahu family's regular response to criticism over the security detail and personal driver the prime minister's sons have—insisting the decision on security arrangements is done by security officials, and the prime minister's sons have no say in it.

Before Netanyahu entered office, the Israeli prime minister's children did not receive a security detail, though they did not live in the official residence either.