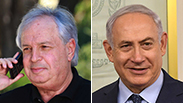 Bezeq majority shareholder Elovitch (L) and PM Netanyahu
צילום: אלי דסה, קובי גדעון, לע"מ
PM Netanyahu, Elovitch met 7 times over 2-year span
Prime Minister's Office publishes dates of meetings between PM Netanyahu, Bezeq majority shareholder Shaul Elovitch to comply with court order; 3 meetings took place while Netanyahu was communication minister; PMO: 'Bezeq-yes merger not discussed in meetings'; Elovitch: Anti-trust Authority's decision could not be swayed by meeting 2 days prior.
Prime Minister Benjamin Netanyahu held seven meetings in his Jerusalem residence with Bezeq majority shareholder Shaul Elovitch over the course of two years, with three of the meetings taking place during Netanyahu's time as communications minister—who oversees the telecommunications giant—despite not reporting his ties to Elovitch when assuming the position.

The Prime Minister's Office (PMO) was forced to publish the itinerary of Netanyahu's meetings with Elovitch Thursday, as documented in the PMO's log from January 1, 2013 to November 17, 2015.

The disclosure came in the wake of Jerusalem District Court Judge Amnon Darel, who ruled in favor of a petition to disclose the dates of the meetings on a freedom of information request.

Netanyahu vehemently objected to the publication of the meetings' details citing injury to privacy, but his claim was rejected by the court. The State Attorney's Office also reversed position following a High Court verdict on a petition submitted by a Channel 10 journalist, which forced Netanyahu to disclose dates of phone conversations he had had with Israel Hayom publisher Sheldon Adelson and former editor Amos Regev.

Netanyahu had admitted previously that he and Elovitch maintained years' long friendly ties. In a deposition submitted to the court in November 2016, the prime minister wrote that "Elovitch has been my friend and companion for 20 years. We have a cordial relationship and maintain it by meeting from time to time."

The pair's first four meetings at the prime minister's official residence took place when Gilad Erdan served as communication minister. A meeting taking place on March 24, 2014, was held merely two days before Israel's Anti-trust Authority approved under conditions Bezeq's merger deal with satellite television provider yes.

On November 5, a single day after Erdan's resignation from the Communication Ministry, Netanyahu took on the mantle of minister and three weeks later met with Elovitch again. Netanyahu did not at the time report his ties with the business magnate to anyone.

During his tenure as communication minister, Netanyahu convened with Elovitch on three separate occasions, in meeting held in the midst of a general election campaign.

Due to criticism the prime minister was hit with in a State Comptroller's report on carrying out activities related to Bezeq despite his ties to Elovitch—who has a majority stake in the company—Netanyahu was forced to step down and in February 2017 appointed Tzachi Hanegbi as acting communication minister for a three-month period, and then later appointed Ayoob Kara to a permanent position in the ministry.

Shlomo Filber, a Netanyahu confidant who also served a stint as the Communication Ministry's director-general, had declared his recusal, with the Israel Securities Authority recommending he be indicted due to his conduct in the Bezeq affair.
'The PM allegedly committed breach of trust'
Attorney Shachar Ben Meir, who submitted the original petition, said he now intended to demand the details of Netanyahu's phone conversations with Elovitch citing freedom of information, and should the prime minister refuse he will once again take him to court.

"On a strict legal level, as soon as Netanyahu appointed himself communication minister he had to report his friendship with Elovitch and recuse himself from making decisions on Bezeq, and certainly not meet Elovitch," Ben Meir said.

"The dates of the meetings give credence to the conclusion he had allegedly committed a breach of trust offense and I can only wonder why the attorney general has yet to act on the matter," the attorney said.

The PMO said on behalf of Netanyahu, "Seven meetings took place over the course of two years. Contrary to publications, and in light of policy handed down by the High Court recently, the prime minister did not object to publicizing the dates of meetings.

"The meetings did not deal with the Bezeq-yes merger. Decisions and authorizations in that regard were made by professional ranks, including in the Israel Anti-trust Authority. The prime minister in no way intervened with the Authority's decision or the work of professional committees, whose recommendations he approved. Any attempt to tie him to the Bezeq-yes deal is absurd and unfounded."

Shaul Elovitch's representation said, "There's nothing new about this publication, since Shaul Elovitch and the prime minister had already confirmed the meetings—strictly social in nature—took place in the past.

"It should be stressed that Elovitch agreed to publicizing the meetings' dates and confirmed that they had taken place, with seven meetings spanning three years, contravening the original impression in the media as if the meetings took place often.

"An attempt to link one such meeting, taking place two days before the approval of the Bezeq-yes merger by the Anti-trust Authority, to the merger is baseless. As is well known, the aforementioned merger was a complex process drawn out over a period of five years, in addition to the five-month-long public hearing process before the merger was approved.

"It is completely unfounded and detached from reality to assume that a meeting taking place two days before the approval could have in any way influenced the decision, even more so as it's well known the prime minister carries no influence over the Anti-trust Authority's decisions."