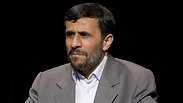 Mahmoud Ahmadinejad
Photo: AP
Former Iranian president Mahmoud Ahmadinejad was reportedly arrested for inciting unrest, Al-Quds Al-Arabi said Saturday, citing "reliable sources in Tehran."

The London-based pan-Arab newspaper said the arrest received the approval of Supreme Leader Ayatollah Ali Khamanei, and that Ahmadinejad was later put on house arrest.

In a speech at the city of Bushehr on Thursday, Ahmadinejad criticized President Hassan Rouhani's government, saying "Some of the current officials live away from the problems and concerns of the people, and do not know anything about the reality society lives in."

Rouhani's government, he asserted, "believes they own the land and that society is ignorant to that... The people are angry at this government because of its monopoly on public wealth ... Rouhani and his government do not accept any criticism or objection."

"What Iran is suffering from today is mismanagement and not lack of economic resources," Ahmadinejad further said.

His comments came in response to Rouhani himself, who said earlier that day that Ahmadinejad was "on a course for confrontation with the regime."

More than a week of unrest has seen 22 people die and more than 1,000 arrested, according to Iranian officials.

Unrest spread to more than 80 cities and rural towns as thousands of young and working-class Iranians voiced anger at graft, unemployment and a deepening gap between rich and poor.

Residents contacted in various cities have said the protests had subsided in recent days, after the government intensified a crackdown by dispatching Revolutionary Guard forces to several provinces.

Reuters contributed to this report.