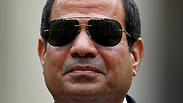 President Abdel Fattah al-Sisi
Photo: EPA
Egypt denies any change to position on Jerusalem
Cairo decries NYT report quoting an intelligence officer claiming Egypt had revised its position on Jerusalem and that it would accept Ramallah as a future capital of a Palestinian state: 'It is not appropriate that such a large newspaper like the New York Times publishes a story like this.'
Egypt categorically denied Sunday morning a recent report in the New York Times that claimed Cairo had revised its position on east Jerusalem and that it would not insist it necessarily be the capital of any future Palestinian state.

The General Information Authority in Egypt said the claims were false, and that President Abdel Fattah al-Sisi and Foreign Minister Sameh Shoukry supported the idea of east Jerusalem as a Palestinian capital, rejecting the notion that Ramallah could be an acceptable substitute.

According to the New York Times, a senior Egyptian intelligence officer, Captain Ashraf al-Kholi, told TV presenters in his country that instead of condemning Trump's recognition of Jerusalem as Israel's capital, they should convince their viewers to accept it, rhetorically asking, "How is Ramallah different from Jerusalem?"




Not content with a mere denial, Egypt issued a statement slamming the New York Times for its report.

"It is not appropriate that such a large newspaper like the New York Times publishes a story like this," the General Information Authority said in its statement.

"Nothing can be deduced about the Egyptian position on international matters from leaks that are connected to an unknown person. Positions are laid out by the president and foreign minister through officially stated positions," the statement sought to clarify.

"All of these people have expressed their positions on Jerusalem, and they have been translated into action in the UN and other international bodies, without referring to threats by the US ambassador in the UN on the issue of (financial) aid. Even the article recognized these Egyptian positions," it concluded.

In the press conference described in the report, Capt. Al-Kholi said, "We publicly denounce the decision like our other Arab brethren," but added that despite appearances, he did not consider a confrontation with Israel in Egypt's national interest.