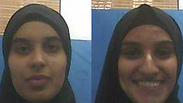 Two Bedouin women planned terror attack against Israelis
Tasnin al-Assad contacted ISIS operative online, who instructed her to scout locations in Be'er Sheva for possible bombing; she was aided by Rahma al-Assad; the two also contacted east Jerusalem resident Ahmad Abu Ramila in effort to convince him to carry out New Year's Eve attack; all three planned to travel to Sinai to join ISIS.
The Shin Bet and the Israel Police have arrested two 19-year-old Bedouin women suspected of planning to carry out terror attacks on behalf of the Islamic State (ISIS), it was cleared for publication on Monday.

The two, Rahma al-Assad and Tasnin al-Assad, Israeli citizens from the Bedouin town of Lakiya, were arrested in December 2017.

According to the Shin Bet, over the last year the two planned to carry out a terror attack against Jews in Israel and considered various options to that end.

They were also in contact with ISIS-affiliated terror operatives from abroad and were instructed by some of these contacts to carry out tasks in preparation for an attack, according to the indictment against them.

Tasnin al-Assad allegedly used the Telegram app to talk to a man identifying as "Sheikh Qassim," an ISIS online operative. She purchased a SIM card especially to that end.

During their conversations, Sheikh Qassim broached the possibility of carrying out an attack in Israel, and Tasnin expressed willingness to aid him in that endeavor.

Sheikh Qassim asked Tasnin to examine the entrances and security arrangements at three Be'er Sheva locations: Ben-Gurion University, the Kaye Academic College of Education and the Central Bus Station.

Tasnin told her ISIS contact that many Muslims pass through the Be'er Sheva Central Bus Station on a daily basis, recommending against targeting that location as an attack there might harm them.

At some point, Tasnin contacted Rahma al-Assad and the two scouted Ben-Gurion University and the Kaye Academic College of Education to gather intelligence ahead of a planned bombing that entailed bringing a suitcase with explosives into one or both of these academic institutions.

The two women reached the conclusion the security arrangements in both locations were too strict to carry out such an attack.

The Shin Bet investigation further revealed the two women planned to travel to the Sinai Peninsula and join ISIS. To that end, they had passports issued.

They also posted content online praising ISIS as well as inciting to terrorism against Jews in general and Israel in particular.

The defendants also allegedly tried to convince 24-year-old Ahmad Abu Ramila from east Jerusalem to carry out a religiously-motivated attack on New Year's Eve.

Ramila was indicted for contact with a foreign agent, conspiring to commit a crime (membership in a terror organization), obstruction of justice and evidence tempering.

Ramila, according to the indictment, was a member of several Telegram groups affiliated with ISIS. He also allegedly planned to marry Tasnin and travel to Sinai with her to join ISIS.

When he became concerned of the possibility Rahma and Tasnin have been arrested, he deleted his conversations with them in an effort to cover his tracks.