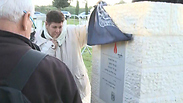 The memorial plaque unveiled at the site of the attack
Photo: Ofer Meir
Ceremony commemorates East Talpiot terror attack
Family, friends of 4 victims gather for memorial ceremony, unveiling of monument on site of the 2017 truck attack; 'From pain this deep, there's nowhere to go but up,' says mother of one of the victims; 'My heart fills with pride at wounded cadets I met and then saw later in uniform,' says Jerusalem Mayor Barkat.
Friends and families of the victims of the East Talpiot vehicular terrorist attack came together Monday at the neighborhood's Haas Promenade for a memorial ceremony during which a monument for the fallen was unveiled and yahrtzeit candles lit, on the one-year anniversary of the attack that claimed the lives of four IDF soldiers.

In addition to the four fatalities——one officer and three recruits—13 recruits were wounded.

"It has been a year since the attack that shrouded our lives in darkness, here—opposite the vistas of Jerusalem—and we have been collecting the pieces ever since," said Keren Tzadok Orbach, whose son Erez was murdered in the attack.

"Here, in this place, we have decided to undertake a new journey. Our longing is boundless and we'll forever cherish the light they shone unto the world. We now look reality square in the face and know that from despondency this deep, there's no way to go but up," Erez's mother said.

Dudi Tzuri, whose daughter Shira was also murdered in the attack, said, "Shira always espoused love and wanted people to use their heads. It certainly worked with me."

"What I would ask in these strange times is to look to your left and right at the people around you in this world and think how you can make it better. Always remember Shira, but don't cry for her. Remember the message she left when she passed," he appealed.

Meirav, mother to Shir Hajaj, eulogized her daughter as well, saying, "The officer's training course did you so much good. We felt something in you changed. You wanted to contribute to the country and its people. Yael, Shira, Shir and Erez—you chose the country as a way of life."

"We decided to educate teenagers according to your path, Shir, and in continuing your work, something of yours will remain around forever," she concluded.

Sheli Yekutiel spoke about her own daughter, Yael. "It pains me to think how much you loved Jerusalem and how much you used to go there before joining the army," she said. "And then it was all cut short in the exact spot we're standing now and we fell into an ever-deepening abyss of pain."

"We do our best to carry on and try and draw strength from you. 'Thanks to the belief in man'—that's what you called your perspective on command. We beg for a way to be found to live in peace with the people living next to us," she pleaded.

Jerusalem Mayor Nir Barkat also participated in the East Talpiot ceremony. "The terrorist chose this location because he thought it would scare us off our path. On the contrary. One day later I arrived here and was taken aback by the unit's desire to carry on and complete the course. My heart fills up with pride at the wounded cadets I met and then saw later in uniform. What a strong, determined people we are," the mayor said.