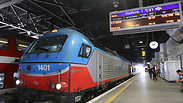 The Jerusalem-Tel Aviv express line
Photo: Yaron Brener
The Transportation Ministry announced Tuesday the Tel Aviv-Jerusalem express railway line will commence operations March 30, on the eve of Passover, utilizing an electric train that can reach speeds of up to 160 kilometers per hour.

Furthermore, according to Minister of Transportation Yisrael Katz, during the train's first three trial months, passengers will be able to travel on the train cost-free using their Rav Kav transportation cards.

During its first stage of operations, the train will operate on a single track running from the Jerusalem Binyanei HaUma railway station to Tel Aviv's HaHagana railway station. In its first two months of operation, one train will run every hour in either direction, contrary to previous promises of four trains ever hour. The entire journey will take 28 minutes.




The Transportation Ministry previously committed to operate the electric line from the Herzliya station to the Jerusalem Binyanei HaUma station by March 2018. Katz's most recent commitment, however, referred only to the train reaching Tel Aviv's HaHagana station.

Effectively, the discrepancy means that travelers heading north will travel on a diesel-powered train to HaHagana station, from which they'll switch to the electric express train to Jerusalem.

The ministry further announced that for the second phase, set to commence operations several months later, two tracks will operate between Binyanei HaUma and HaHagana, with train frequency increasing to three trains an hour in either direction during rush hour, meaning that one train will be leaving to and from Jerusalem every 20 minutes.

In the future, the line's frequency may be expanded to six trains an hour during peak times.

The line is part of a planned transportation hub to include in the future two light rail stations, a taxi station and a "park & go" complex with more than 1,200 parking spaces.

The lower level of the Herzliya station is more than 80 meters underground . It is comprised of tunnels and shafts and includes four docks, each 300 meters long. According to the Transportation Ministry, the structure may be used as an atomic bomb shelter in an emergency, sheltering up to 4,000 people at any given time.

The Jerusalem express railway line includes a double track 56km in length and will pass through Ben Gurion Airport, Modi'in and Sha'ar HaGai. The train will make some four million trips its first year of operation.

The estimated cost of the line is NIS 7 billion and particular importance was placed on the national project's realization due to the significantly increased accessibility to the capital.

A source in the infrastructures sector admitted to Ynet that Katz's latest proclamation posed a considerable challenge to the people in his ministry in charge of operations, in light of the many technical issues that might arise.

Information obtained by Ynet also said delay on the project may reach three or four months, a claim the Transportation Ministry denied.