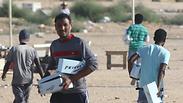 Claims of horrors awaiting returning Eritreans have been denied
Photo: Motti Kimchi
Why deportation of asylum seekers is unnecessary
Op-ed: According to serious reports and European court rulings from recent years, Eritreans returning to their country are no longer in danger of being tortured; now that the situation has changed, there's no need to deport them—there's a need to return them.
Israel has decided to deport asylum seekers to third countries. A slightly odd decision, and mostly unnecessarily.

Regardless of whether the aid organizations' claims against this decision are right or wrong, a thorough discussion of these claims seems unnecessary in light of the fact that there are two many alternatives that are more decent and humane, and which complement each other.

To understand the alternatives, we must remember that most African asylum seekers came from Eritrea, and that most of them support that country's regime. Under Eritrean law, they must pay a 2-percent diaspora tax to the Eritrean government. In addition to this tax, a significant portion of their salary is transferred directly to their families. A 2015 study estimated that every African in the diaspora transfers $1,077 a year to his or her family members.

When it comes to Eritrea, the payments from the diaspora make up 37 percent of the gross national product. Even those who don't support the regime are entitled to make a ransom payment at the Eritrean embassy and receive a sort of pardon.

The Israeli government has the option of returning the Eritrean asylum seekers to their country. Aid organizations say they can't be returned, as they would be tortured there or forced to serve in the army forever and ever.

This claim may have been true in the not-so-distant past, but different reports released in recent years indicate that those who have returned or have been returned to Eritrea have not been tortured. One of the most serious reports, issued by the European Asylum Support Office (EASO), denies the claims of horrors awaiting the returning Eritreans.

European courts, including the European Court of Human Rights, have decided in recent years to return Eritrean asylum seekers who were said to be deserters. So the situation has changed. There's no need to deport them, there's a need to return them.

The other alternative is the "deposit law," which was passed several months ago, under which foreign workers must deposit 20 percent of their salary in a designated fund whose content would be returned to them on the day they leave Israel.

This is a fair arrangement, which allows asylum seekers to work and earn a dignified living, yet encourages them to leave voluntarily as the sum accumulated in the fund increases. Aid organizations petitioned the High Court against the law just like they have petitioned any other measure adopted by the government concerning this issue.

Considering the huge money transfers from Eritreans in the diaspora, both to the Eritrean government and to the families back home, this is clearly a case of work migration. It's a worthwhile export industry, creating a difference between persecuted refugees and work migrants. Humane and Jewish ethics require us to consider the former's needs a bit more than the latter's needs.

Combining the two options could lead to a decent arrangement. Instead of investing huge efforts and huge budgets in deportation, we could put most of our efforts into implementing the "deposit law." This measure, coupled with serious negotiations with the Eritrean government, which has diplomatic relations with Israel, could lead to the enforcement of proper return procedures.

The Eritreans living in Israel likely won't support any arrangement. They deserve to be treated humanely, but that doesn't mean every claim they make is right.

The thing is that any arrangement, regardless of its nature, evokes a Pavlovian response among the aid organizations. That's a shame. These organizations could have played a significant role in defending asylum seekers. Instead, they have created a feeling—which isn't always wrong—that as far as they're concerned, charity doesn't begin at home.

When these organizations oppose every move, ignore European reports and rush to the High Court even against a reasonable and humane measure like the "deposit law," they stop being rights organizations and turn into organizations with a radical political agenda.

Most importantly, it's a shame that these organizations are incapable of allotting some of their empathy toward asylum seekers also toward the main victims of the tens of thousands who have settled among them.