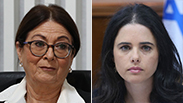 Chief Justice Hayut (L) and Justice Minister Shaked
Photo: Alex Kolomoisky, Yonatan Sindel/Flash 90
With the list of 25 nominees to the Supreme Court's bench published earlier this week, the heads of the three factions in the Judicial Selection Committee—Justice Minister Ayelet Shaked, Chief Justice Esther Hayut and Israel Bar Association President Efi Nave—have begun vying for their nominees to get the nod, and cutting the deals to achieve their goals.

The committee will convene next month to decide on the two chosen nominees to replace retiring Justices Yoram Danziger and Uri Shoham.

Shaked has attached paramount importance to filling the two vacated seats with people of her own political ilk, and it has been her stated aim since assuming her position at the Justice Ministry to pack the court with "conservative"—or right-wing religious—justices.

She has been successful in her endeavor thus far, appointing four of her nominees to the bench. If she succeeds in filling the current two spots as well, Shaked would be able to present to her electoral constituency a considerable achievement—taking credit for the appointment of six of the Supreme Court's 15 justices sitting on Israel's highest judicial body.

The judiciary, meanwhile, is finding solace in the fact that all of the minister's appointments came from within the judiciary branch itself, and included no academics or private attorneys, an issue they believe helps preserve the branch's independence during a period when it is much maligned by politicians.
The deal making begins
While relations between Hayut and Shaked are considerably positive, thanks to the minister's efforts to allow Hayut a "soft landing" in her new position, they have come to figurative blows over the latter's request to appoint Yigal Mersel as director of the Courts Administration.

Shaked, a seasoned politician, has most likely be withholding her approval to later use it as leverage in her negotiations with Hayut on appointing the new nominees.

On the bar's side, Hayut is wary of Nave and his growing influence on the appointment process, whereas Shaked considers him a veritable ally.

Nave, who himself is no slouch in political wheeling-dealing, has often stated that under his tutelage the bar association will be a member of equal standing in the committee, rather than the judiciary's rubber stamp it has been in the past.

In the previous round of selection, Nave sponsored Judge Yosef Elron's candidacy to the bench. Elron was initially considered a long-shot due to adamant resistance from the Supreme Court members of the committee, who claimed he wasn't "made of the right stuff."

Nave, however, succeeded in appointing Elron to the court, and now boasts another hard-to-resist nominee in District Judge Khaled Kabub.

Kabub, widely considered an exemplary jurist, is also on Hayut's shortlist, but Shaked may not back his appointment, as she'd be hard pressed to present the appointing of the first Arab Muslim justice to the Supreme Court to her electoral base as a victory.

Nave, who joined the committee on a six-year appointment, is determined to get his man appointed to the bench.

District Judge Ofer Grosskopf is also in contention with Kabub for his Supreme Court spot. While Hayut and Shaked agree he is a worthy candidate, the latter nevertheless conditioned her supporting his candidacy on Hayut supporting her own nominee for the other position.

Another nominee with potential is Judge Shaul Shohat, who is recognized for his talents as much as his Mizrahi background. Shohat has also attracted the support of committee member Finance Minister Moshe Kahlon, and may end up being selected as a compromise candidate.

Shaked's leading nominee is Prof. Alex Stein, considered a trailblazer in his fields of expertise. Stein made Aliyah to Israel from the Soviet Union when he was 16, but has been residing and working in the United States for the past 14 years.

Shaked does not consider the latter fact a drawback, insisting his appointment to the bench will be an achievement in reversing a "brain drain." Fellow academics have also welcomed Stein's candidacy.

The Supreme Court, however, is markedly less enthusiastic, with sources saying bringing him up made some jaws drop in the judiciary, which has always had trouble accepting outsiders into its ranks.

Since Shaked announced his candidacy, social networks have been abuzz with tales of a non-politically correct position Stein had taken in the early 2000s on a sexual harassment scandal. The affair will most likely be dredged up again when his candidacy is discussed by the committee.

In the next few weeks, Shaked, Hayut and Nave will attempt to brook an agreement. If they cannot, Hayut—who, also with the other two justices in the committee, serves as an obstructive bloc as appointments need a seven-member majority—may seek to postpone the hearing for another time, and in the meantime preside over a shorthanded court.